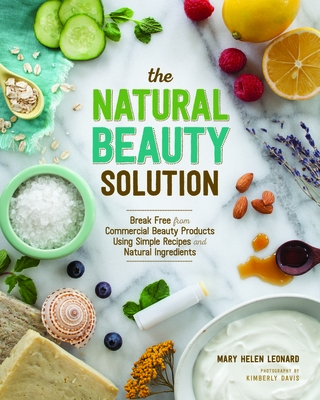 The Natural Beauty Solution
Break Free from Commerical Beauty Products Using Simple Recipes and Natural Ingredients
Paperback

* Individual store prices may vary.
Description
You've stocked your kitchen with whole foods, and cleansed your cabinets of processed snacks, microwave meals, and sugary desserts. After putting all of that effort into your natural, healthy lifestyle, it doesn't make a lot of sense to slather your body in chemical-laden commercially produced beauty products. You are what you eat, and your skin can absorb chemicals and additives just as easily as your stomach. With just a little extra effort, you can work handmade, natural beauty into your daily routine. The Natural Beauty Solution is a step-by-step guide to replacing commercial beauty products with a 100% natural routine. The Natural Beauty Solution features two-dozen easy-to-follow, customizable recipes for natural skin care. The ingredients and recipes not only provide a healthy alternative to mass-produced products, they make your skin and hair look their best, naturally. Common skin disorders, such as eczema, psoriasis, and acne are often aggravated by the chemical ingredients contained within commercial cosmetics. Chemical-based hair care can cause frizz, breakage, and scalp irritation. And, very often, it's the over the counter "cures" that are the very thing that cause common skin and hair care problems. By breaking the cycle with a natural beauty routine, you can give your body a true beauty reset. The Natural Beauty Solution will help you completely overhaul your medicine cabinet, show you how to create simple natural recipes that are quick and affordable, and troubleshoot natural beauty methods to fit your specific skin and hair type. The beautiful color photography, the insightful and inspiring editorial, and the easy to create natural recipes will have you re-examining -- and re-directing -- your entire beauty routine to a natural beauty solution.
Spring House Press, 9781940611181, 144pp.
Publication Date: July 6, 2015
About the Author
Mary Helen Leonard has been working in the natural beauty ingredient industry since 2005, and has been professionally blogging about natural beauty since 2007. She currently works as a blogger, copywriter, and formulator for one of the country's leading natural ingredient suppliers, Natural Sourcing, LLC. Mary Helen's specialty is formulating DIY recipes for natural skin care, hair care, and green living on the blog she authors at The Natural Beauty Workshop. In addition, as Natural Sourcing's blogger and social media coordinator, Mary Helen answers technical help and formulation questions from readers and customers on a daily basis, and has a great relationship with The Natural Beauty Workshop's readership. She also teaches classes and workshops locally in Austin, TX.