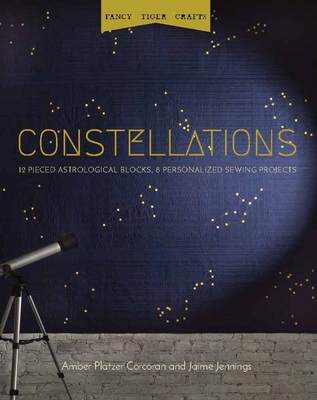 Constellations
12 Pieced Astrological Blocks, 8 Personalized Sewing Projects
Paperback

* Individual store prices may vary.
Lucky Spool, 9781940655277
Publication Date: October 15, 2017
About the Author
Amber Corcoran and Jaime Jennings co-own the magical Denver shop, Fancy Tiger Crafts. Together, they have created a place that is both a local favorite and a destination for makers far and wide. The shop hosts an open craft night every Tuesday where Amber and Jaime can usually be found hanging out with other makers and shakers, sharing their love of all things handmade. Amber graduated from the Savannah College of Art and Design, studying graphic design and photography. Eventually introduced to textile crafts, she fell in love. Quilting is something she particularly loves for its ability to be both a comforting object and an asethetic expression–a beautiful piece of art to wrap up your loved ones in. Jaime grew up with a strong entrepreneurial spirit and a love of handicrafts which facilitated her opening fancy Tiger in 2006. It's been a non-stop love affair with knitting, sewing, textiles, and community ever since. Amber and Jaime can be found doing all kinds of crafty things at fancytigercrafts.com.