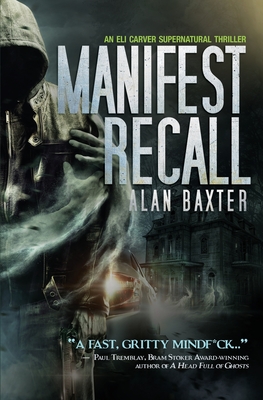 Manifest Recall
An Eli Carver Supernatural Thriller - Book 1
Paperback

* Individual store prices may vary.
Description
A SUPERNATURAL THRILLER FROM THE AWARD-WINNING MASTER OF DARK FANTASY

Following a psychotic break, Eli Carver finds himself on the run, behind the wheel of a car that's not his own, and in the company of a terrified woman he doesn't know. As layers of ugly truth are peeled back and dark secrets are revealed, the duo find themselves in a struggle for survival when they unravel a mystery that pits them against the most dangerous forces in their lives.

A contemporary southern gothic thriller with frightening supernatural overtones, Alan Baxter's Manifest Recall explores the tragic life of a hitman who finds himself on the wrong side of his criminal syndicate. Baxter's adrenaline-fueled approach to storytelling draws readers into Eli Carver's downward spiral of psychosis and through the darkest realms of lost memories, human guilt and the insurmountable quest for personal redemption.

Praise for Alan Baxter:

"Manifest Recall grabs you by the scruff of the neck from word one and doesn't let go. It's fast paced, bad people doing bad things to other bad people. I gobbled it down in two nights. You should, too. Highly recommended " - John F.D. Taff, Bram Stoker Award-nominated author of The End in All Beginnings

"Alan Baxter's fiction is dark, disturbing, hard-hitting and heart-breakingly honest. He reflects on worlds known and unknown with compassion, and demonstrates an almost second-sight into human behaviour." - Kaaron Warren, Shirley Jackson Award-winner and author of The Grief Hole

"Alan Baxter is an accomplished storyteller who ably evokes magic and menace." - Laird Barron, author of Swift to Chase

"Alan's work is reminiscent of that of Clive Barker and Jim C. Hines, but with a unique flavour all of its own." - Angela Slatter, World Fantasy, British Fantasy and Aurealis Award winner

Proudly presented by Grey Matter Press, the multiple Bram Stoker Award-nominated independent publisher.

Grey Matter Press: Where Dark Thoughts Thrive
Grey Matter Press, 9781940658957, 162pp.
Publication Date: May 17, 2018