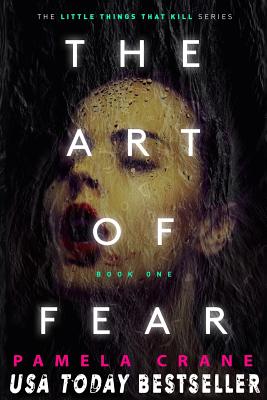 The Art of Fear (Little Things That Kill) (Paperback)
Tabella House, 9781940662084, 306pp.
Publication Date: September 18, 2017
Description
"Perfect for fans of Ruth Ware and Paula Hawkins, Pamela Crane introduces a mind-twist that takes everything you love about thrillers, pushes it outside the box, and electrifies you with clever prose and a plot that will terrify you. A must-read thriller..." - Southern Editor Reviews A life no girl should endure. A father no daughter could love. A twist no one would predict. From USA Today best-selling author Pamela Crane comes a terrifying tale of small-town secrets and murder. Ari Wilburn's life ended long ago-the day she watched her little sister die in a tragic accident and did nothing to stop it. Crippled with self-blame and resented by her parents, she stumbles through life ... and onto an unexpected clue that casts doubt on whether the death was accidental. Now a psychological wreck, Ari joins a suicide support group where she meets Tina, a sex-enslaved escapee who finds her long-lost father dead. Suicide, police ruled it. But Tina suspects foul play. As a bond develops between the women in their shared loss, they're dragged into playing a dangerous game with a killer. A serial killer with a deadly message. Faced with a murderous wake-up call and two possibly linked deaths, Ari's investigation puts her next on the killer's list. But she's never been one to back down from a fight. Needing closure, Ari must face her demons and the killer behind them ... or lose everything she loves. "If Dexter and Gone Girl had a love child, this would be it." - reader review
About the Author
PAMELA CRANE is a professional juggler. Not the type of juggler who can toss flaming torches in the air, but a juggler of four kids, a writing addiction, a horse rescuer, and a book editor by trade. She lives on the edge (ask her Arabian horse about that-he'll tell you all about their wild adventures while trying to train him) and she writes on the edge. Writing murder mysteries is her escape from the real world of dirty diapers and cleaning horse stalls, and she bases her characters on real people, so be warned! She is a USA Today best-selling author of several award-winning psychological thrillers: Pretty Ugly Lies, A Fatal Affair, and The Admirer's Secret. She has also written the chilling Little Things That Kill Series, which includes The Scream of Silence, The Art of Fear, and The Death of Life, and The Killer Thriller Series, including A Secondhand Lie and A Secondhand Life, which you can find on her website at www.pamelacrane.com. See why Pamela's fans on Goodreads say, "Pamela Crane writes with passion; you can feel the emotions and inner feelings of her characters, " and "She's an author that grabbed my attention." Perfect for fans of The Butterfly Garden and I Am Watching You.
Advertisement