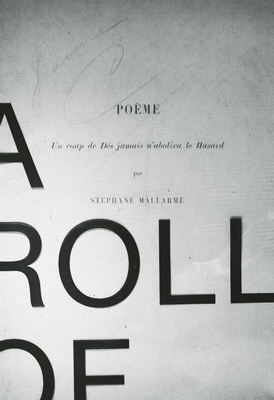 A Roll of the Dice (Hardcover)
Wave Books, 9781940696041, 96pp.
Publication Date: April 7, 2015
* Individual store prices may vary.
Description
A translation by Robert Bononno and designer Jeff Clark of one of Stephane Mallarme's most well-known and visually complex poems into contemporary English language and design. The book is composed in an elaborate set of type and photography to both honor the original and be an object of delight. Includes the original preface by Mallarme. Bilingual edition.

Stephane Mallarme (1842-98) was born in Paris and is widely regarded as one of the most important figures of nineteenth-century French poetry.
Jeff Clark's book designs have been praised in the New Yorker, Better Living Through Design, Cool Hunting, Granta, and other venues. He is a graduate of the University of Iowa Writers' Workshop.
Robert Bononno has received two NEA grants for translations of French authors and was a finalist for the French-American Foundation Translation Prize for his translation of Rene Crevel.
About the Author
Stephane Mallarme (1842-1898) was born in Paris and lived there for many years. He held salons whose regular visitors included W.B. Yeats, Rainer Maria Rilke, Paul Valery, Paul Verlaine, Pierre-Auguste Renoir, Claude Monet, Edgar Degas and many others. Mallarme is widely regarded as one of the most important figures of 19th century French poetry. Jeff Clark was born in southern California. The author of The Little Door Slides Back and Ruins, among other works, he has made his living as a book designer for twenty years. He's won many awards for his book and catalog design, and his designs have been featured in The New Yorker, Better Living Through Design, Cool Hunting, Ploughshares, and Granta. His studio, Quemadura, is based in Ypsilanti, Michigan, where he is also active in community organizing and public artmaking. Robert Bononno has been a freelance translator from the French for more than 20 years. He was an adjunct professor in New York University's Translation Studies program and at the Graduate School of the City University of New York. Bononno is credited with the translation of over a dozen full-length books and numerous shorter pieces. These include Rene Crevel's My Body and I, a finalist for the 2005 French-American Foundation Prize, Herve Guibert's Ghost Image, and Henri Raczymow's Swan's Way. In 2002 he received a grant from the National Endowment for the Arts to complete a translation of the non-fiction work of Isabelle Eberhardt and in 2010 he received an NEA grant for the retranslation of Eugene Sue's classic crime novel, The Mysteries of Paris. Bononno's latest translation, Jean Grenier's Considerations on the Death of a Dog, was published by Turtle Point Press in 2013.
or
Not Currently Available for Direct Purchase