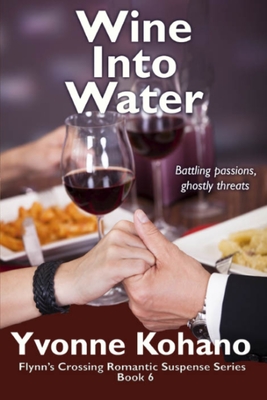 Wine Into Water
Flynn's Crossing Romantic Suspense Series Book 6
Paperback

* Individual store prices may vary.
Other Editions of This Title:
Paperback (10/22/2013)
Description
In the battle between wine and water, two controlling hearts clash, and with a witch involved, the results can be poisonous.

Marguerite Devereaux crafts wines that are exceptional, nothing short of perfection. But the girl tribe counsels caution, saying that little in life is truly flawless. She knows best though. Doing things her way guarantees success. When facts don't agree, lashing out is the only way to protect her ego. Is it also enough to guard her heart against her growing attraction to a man she vows to fight?

Deke Kermarrec strives to honor the seven generations who have worked his land, even if he is the last in the family who cares. Nurturing high quality animals and protecting the ranch legacy are his life, one that's threatened by a relative newcomer with little respect for science as well as sustainability. Convincing her he's right requires more than waving facts in her face - or taking her to bed.

Trouble flows downhill, and Marguerite and Deke face a treacherous crisis threatening more than their jobs. With so much at risk, can they blend their passion for each other into a solution to their problems? Perhaps the witch has answers to all of their questions.

The Flynn's Crossing series is contemporary romance set in the northern California foothills, suspense driven by small town secrets, and complex characters in compelling stories about friendship and love. You can enjoy the books out of order without ruining their surprises

Kochanowski Enterprises, 9781940738369, 336pp.
Publication Date: June 20, 2015