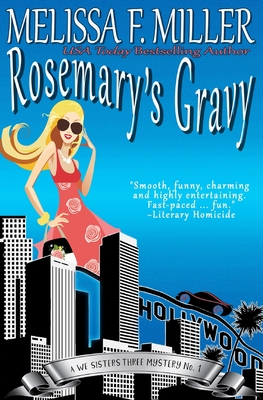 Rosemary's Gravy (Paperback)
Brown Street Books, 9781940759104, 268pp.
Publication Date: May 6, 2015
* Individual store prices may vary.
Description
Rosemary Field never planned on working as a private, holistic chef for a demanding vegan actress. But then, plans have a way of going out the window when a girl learns her parents have skipped town, leaving behind a half-million-dollar debt.
Rosemary makes the best of her situation, putting up with her boss's diva antics and halfheartedly fending off the advances of the impossibly sexy stepson who comes with the high-paying gig. Then someone decides to kill the miserable movie star. It's bad news for any chef when a client dies from an allergic reaction after eating your cooking. It's even worse news for Rosemary because the police are determined to charge her with murder.
To restore her reputation (and stay out of prison), Rosemary has to find the real murderer-and fast. Her short list of suspects includes a womanizing race car driver, a powerful music producer, Hollywood's hottest leading man, and, oh yeah, Felix, the dead woman's stepson-which gets a little awkward when Rosemary starts dating him.
Unfortunately, everything Rosemary thought she knew is wrong-dead wrong.
After a romantic dinner with Felix ends in food poisoning, she finds herself unattached, unemployed, and once again on the wrong side of the LAPD. She knows how to salvage an oversalted sauce, but can she salvage the disaster that is her life? And will the hunky homicide detective help her-or book her?
Rosemary's Gravy is the first book in the We Sisters Three series, the new romantic comedic mystery series from Melissa F. Miller, the USA TODAY Bestselling Author of the Sasha McCandless legal thriller series and the Aroostine Higgins legal thriller series.
About the Author
USA TODAY Bestselling Author Melissa F. Miller was born in Pittsburgh, Pennsylvania. Although life and love led her to Philadelphia, Baltimore, Washington, D.C., and, ultimately, South Central Pennsylvania, she secretly still considers Pittsburgh home. In college, she majored in English literature with concentrations in creative writing poetry and medieval literature and was STUNNED, upon graduation, to learn that there's not exactly a job market for such a degree. After working as an editor for several years, Melissa returned to school to earn a law degree. She was that annoying girl who loved class and always raised her hand. She's worked for major international law firms, clerked for a federal judge, and ultimately started a two-person law firm with her lawyer husband. Powered by coffee, she writes her legal thrillers while pretending not to hear her three young children wreaking havoc. She has a very lazy dog and three hyperactive gerbils. Please visit www.melissafmiller.com and sign up for her e-mail newsletter to find out when new books are published.