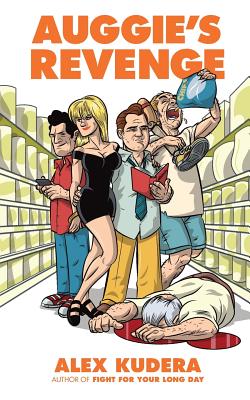 Auggie's Revenge (Paperback)
Beating Windward Press LLC, 9781940761244, 250pp.
Publication Date: March 29, 2016
* Individual store prices may vary.
Description
Down and out in America, with absurdity all the way. In the city of brotherly unemployment, Michael Vittinger shares an adjuncts' office far removed from any real or imagined full-time, tenure-track position. After more than a decade of teaching, Michael still lives paycheck-to-supermarket in a small studio apartment. Trapped between insomnia and omniphobia, Michael drifts into late-night, supermarket friendship with Auggie, an offensive pick-up artist, and Jonny November, a one-legged con man. Through their lessons on how to survive at the bottom rungs of Capitalism, Michael realizes the promise of working longer and harder to earn a position with health benefits and a 401k security blanket is nothing but a Ponzi scheme - a shell-game run by the Capitalist-Education Complex to fill the prerequisite teaching positions with cheap, disposable, contract labor. Unable to face such a precarious future, Michael joins Auggie and Jonny in a revenge-robbery plot in the hopes of justice for Auggie and a pile of cash for each of them. Aided by Michael's significantly younger girlfriend, and former student, they set out to murder and plunder Auggie's abusive stepfather, who stole Auggie's inheritance and never served time for beating and molesting him. An eccentric "guys gone bad to do good" book, "Auggie's Revenge" is both a comic literary novel and a gritty crime thriller from the writer of the award-winning "Fight for Your Long Day," America's major novel on the pay-per-course adjunct issue.