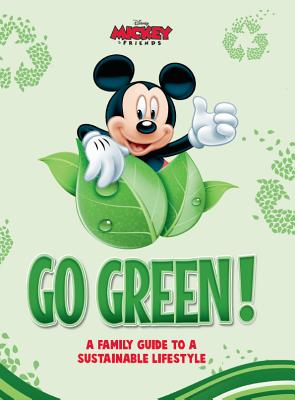 Disney Go Green
A Family Guide to a Sustainable Lifestyle
Hardcover

* Individual store prices may vary.
Description
Overview
Go Green is a new brand of Disney books, encouraging families to lead a sustainable lifestyle. It is however not only a line of books but an opportunity for families to spend time together. It is an all around guide for families to take steps towards transforming their lives to live a healthier, greener, and a more sustainable lifestyle.
The book
This first Go Green book is for everyone whether they are new to the concept of sustainability or someone who's lifestyle is green. The books three main focal points are; explaining sustainability in a simple and fun way, putting the concept into perspective for children and families and to show easy and fun steps to take in the green direction. All through the book are tips and fun facts connected to sustainability and the reader will find that not all is lost and a few easy steps will take the family in a new direction.
Chapter headings
These are a few of the chapter headings, with a reservation that the wording of them might change slightly:
- Go Green with Mickey
- What is the circle of life?
- Fun and active lifestyle
- Exploring the world
- Why recycle?
- Growing our own greens
The brand
Two subsequent titles are in production, Go Green The Family Challenge and Go Green Create Your Own Garden. In addition to the books a strong community will be present online, via the Go Green webpage and all social media.
Edda USA, 9781940787008, 96pp.
Publication Date: April 22, 2014
or
Not Currently Available for Direct Purchase