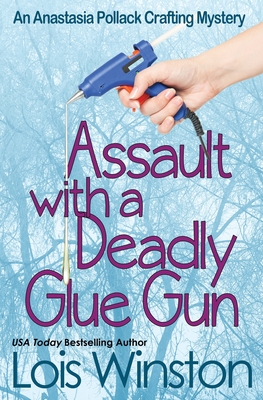 Assault with a Deadly Glue Gun (Paperback)
Lois Winston, 9781940795027, 306pp.
Publication Date: December 7, 2013
Other Editions of This Title:
Paperback (1/1/2011)
Hardcover, Large Print, Large Print (4/1/2011)
* Individual store prices may vary.
Description
When Anastasia Pollack's husband permanently cashes in his chips at a roulette table in Vegas, her comfortable middle-class life in New Jersey craps out. She's left with two teenage sons, a mountain of debt, and her hateful, cane-wielding Communist mother-in-law. Not to mention stunned disbelief over her late husband's secret gambling addiction, and the loan shark who's demanding fifty thousand dollars.Anastasia's job as crafts editor at American Woman magazine proves no respite when she discovers a dead body glued to her desk chair. The victim, fashion editor Marlys Vandenburg, collected enemies and ex-lovers like Jimmy Choos on her ruthless climb to editor-in-chief. But when evidence surfaces of an illicit affair between Marlys and Anastasia's husband, Anastasia becomes the prime suspect. Now she's in a race to find the killer, not only to clear her name but before he strikes again.Craft projects included.
About the Author
Award-winning author Lois Winston writes romance, romantic suspense, mystery, chick lit, women's fiction, and non-fiction under her own name and her Emma Carlyle pen name. Kirkus Reviews dubbed her critically acclaimed Anastasia Pollack Crafting Mystery series, "North Jersey's more mature answer to Stephanie Plum." In addition, Lois is an award-winning craft and needlework designer who often draws much of her source material for both her characters and plots from her experiences in the crafts industry. Visit Lois at www.loiswinston.com, visit Emma at www.emmacarlyle.com, and visit Anastasia at the Killer Crafts & Crafty Killers blog, www.anastasiapollack.blogspot.com. Follow everyone on Twitter: https: //twitter.com/Anasleuth.