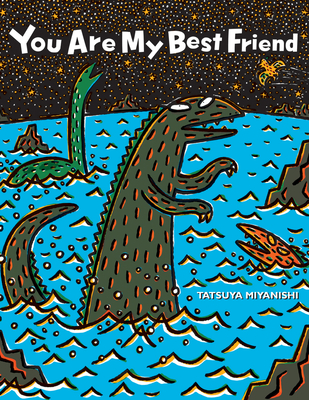 You Are My Best Friend (Tyrannosaurus Series) (Hardcover)
Museyon, 9781940842103, 40pp.
Publication Date: May 1, 2016
Other Editions of This Title:
Paperback (7/1/2019)
* Individual store prices may vary.
Description
Once upon a time a violent, mean, selfish Tyrannosaurus roamed the land, and all the other animals feared him. One day, while chasing other animals, the Tyrannosaurus falls into the ocean. The Elasmosaurus, who lives in the sea, saves his life, and the Tyrannosaurus says "thank you" for the very first time. From that day, the land creature and the sea creature become best friends. The author, Tatsuya Miyanishi, delivers a heartwarming story about friendship with vivid, brightly colored illustrations and endearingly drawn characters. 
About the Author
Born in 1956, Tatsuya Miyanishi graduated from the Nihon University College of Art and was a doll artist and graphic designer before becoming a picture-book author. Miyanishi s books have a passionate fan base of all ages that enjoys his range of endearing characters in many genres, from superheroes to dinosaurs, all illustrated with bright colors. He has won the Kodansha Cultural Award for Picture Books, as well as the Kenbuchi Picture Book Grand Prize."
Praise For You Are My Best Friend (Tyrannosaurus Series)…
"The book addresses many matters related to social interactions through this moving tale and is thus an ideal classroom read-aloud! The simple story structure with it`s fresh and divergent illustrations can easily capture children`s attention." —Methmini Costa, picksandreadsforkids.com
"The story of being so much happier once you start being nice and have a friend in your life make the book worth reading to your children." —Lilyn George, scifiandscary.com
"Once again, as in You look yummy!, Tatsuya Miyanishi proposes a different way too see a situation. In this case he puts forward the idea of how caring about the bully is also a way to stop bullying . . . I'm already looking forward to future titles in this series." —Sandra Lema, san.booklikes.com
"Parents will enjoy the dinosaur's uncanny resemblance to Godzilla and may even learn a thing or two about prehistoric creatures. Don't worry, your kids won't have a clue if you don't pronounce them correctly—they'll be too enthralled with the captivating story and dramatic images." —Heather Wilson Tomoyasu, JQ Magazine
"Mr. Miyanishi writes very nice picture books for little ones. The illustrations are colorful, there's a lesson in the story, and they're quickly read. They would work well for bedtime stories." —Jo Ann Hakola,
Journey of a Bookseller
"You Are My Best Friend is a wonderful story of friendship... There are some great messages to be found here, like the realization that you can change your behavior, and that friends will accept you if you are kind to them.I would absolutely recommend You Are My Best Friend." —Maureen L., HandsFullMama
"Mr. Miyanishi writes very nice picture books for little ones. The illustrations are colorful, there's a lesson in the story, and they're quickly read. They would work well for bedtime stories." —Jo Ann Hakola, bkfaerie.blogspot.com
"You Are My Best Friend is a wonderful story of friendship... There are some great messages to be found here, like the realization that you can change your behavior, and that friends will accept you if you are kind to them.I would absolutely recommend You Are My Best Friend." —Maureen L, handsfullmama.com
"This cements the relationship and also hammers home the idea that bullies can change through friendship. That's a nice message." —Bob Walch, nightowlreviews.com
"Simple graphics in vibrantly bold colors, life lessons seamlessly woven into kiddie-friendly adventures, clever humor and easy empathy accessible to all ages, all ensure Tatsuya Miyanishi's stories should cross cultures and borders with ease." —Terry Hong, smithsonianapa.org