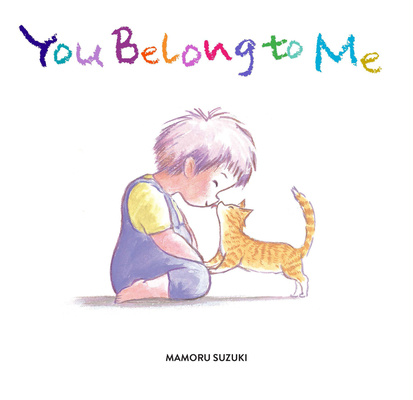 You Belong to Me (Hardcover)
Museyon, 9781940842127, 32pp.
Publication Date: August 1, 2016
* Individual store prices may vary.
Description
The simple text of love, caring and protection is accompanied by adorable illustrations of animals and dinosaurs that hug, help, and protect a human child. The comforting text is ideal for a soothing bedtime story. This beautiful book is a perfect gift for parents with a newborn baby.
About the Author
Born in 1952, Mamoru Suzuki's first published work as a picture-book artist was Boku no okina ki (My Big Tree), with a story by Masao Tsurumi in 1980. In 2006, he received the Kodansha Award for Picture Books for Boku no tori no su enikki (My Illustrated Diary of Birds' Nests).
Praise For You Belong to Me…
"Rather than descending into a gooey morass of platitudes, the book begins to feel like an artfully constructed haiku, one that might make some parents choke back a tear or two. Suzuki's thick, soft outlines recall Kevin Henkes'; many spreads appear to eschew black altogether, and all are enticingly smudgy, even the one with a gigantic T. Rex. For young readers, the book is like a bath before bed: soothing, comforting, and warm." —Vicky Smith, Kirkus Reviews
"The concept of the book 'love and care' is something very small kids can understand and relate to, and the absolutely charming and clear illustrations of different animals in muted shades may evoke their curiosity and hold their attention." —Methmini Costa, picksandreadsforkids.com
"I do agree that it would be a great gift to new parents as they will very much identify with all the parental roles taken on by the various animals. A nice addition to a family library." —Carla Johnson-Hicks, carlalovestoread.wordpress.com
"The love language in Mamoru Suzuki's You Belong to Me is direct and affecting in this way, and even briefly humorous . . . Moving from the loving individual to the protective group, mongooses and porcupines (and even a Tyrannosaurus rex) vow to provide love and care in this peaceful exercise for children up to the age of 3." —Meghan Cox Gurdon, Wall Street Journal
"You Belong to Me is a cuddle to keep on your child's bookshelf for those times when you want to tell them how much you love them." —Kathy, celebratepicturebooks.com