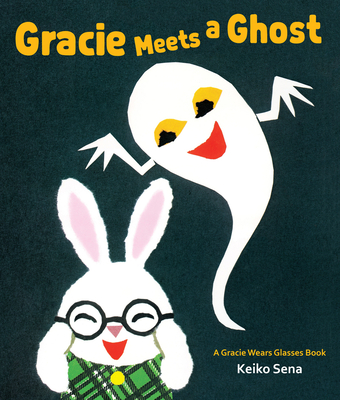 Gracie Meets a Ghost (A Gracie Wears Glasses Book) (Hardcover)
Museyon, 9781940842134, 32pp.
Publication Date: October 1, 2016
* Individual store prices may vary.
Description
Gracie hasn't been able to see very well recently, so she decides to get some glasses. But, after playing on the mountain one day, she realizes that night that her glasses are missing. She heads straight out to look for them on the mountain–where a bored ghost is hiding in the darkness, waiting for someone to scare. Although Ghost tries to scare her, Gracie doesn't react by being frightened, not even little–because she can't see Ghost well enough to be scared without her glasses! Ghost really wants to see Gracie scared, so he helps in her search all night long and finally finds her glasses. But what happens when Gracie puts them on...
About the Author
Keiko Senawas born in Tokyo, Japan, and studied under the well-known printmaker and children's book artist Takeo Takei. She is an illustrator of children s books as well as in book design and the creation of kamishibai picture-panel stories. She is a member of the Japan Children s Book Artists Society and received the Sankei Children s Book Award for her four-volume Iya da iya da no ehon (I Won t Do It!) series. Her other titles include the An an no ehon (Wah! Wah!) and Okiku naritai (I Want to Grow Up) series, and many more."
Praise For Gracie Meets a Ghost (A Gracie Wears Glasses Book)…
"Her indelible good cheer is appealing, and her Mr. Magoo-like mistakes are gently amusing. Sena's textured collage illustrations employ torn paper to evoke Gracie's fur; the simplicity of the compositions gears the book to younger readers." —Vicky Smith, Kirkus Reviews
"This is the cutest book." —Jo Ann Hakola, bkfaerie.blogspot.com
"For kids going through the adjustment of getting used to glasses, the humor in this book will help to ease the transition. Even young readers who don't wear glasses will have fun with the mistaken identity and the frustrated ghost." —Suzanne Costner, fveslibrary.blogspot.com
"This well-illustrated and simple story will delight younger readers who enjoy knowing more than the main character. I can already imagine young children at storytime shouting out 'GRACIE, IT WAS A GHOST ALL ALONG!!!'" —jesstorytime.blogspot.com
"This is a cute ghost story that is nonthreatening. It is a story that would be great to read with a child who needs to wear glasses, as the book brings up some great talking points around this. The illustrations are playful and sweet." —book-chatter.com
"With a lovely selection of matte hues the book's descriptive and clear illustrations are capable of telling the story on its own. And the text effortlessly get the kids involved in the storytelling, 'What is that? / Is that a balloon? / Is it a sheet flapping in the wind?'" —picksandreadsforkids.com
"Every year new children's Halloween picture books get published. This year (2016) there are not as many standouts as in previous years. But there are a few . . ." —Melissa Taylor, imaginationsoup.net