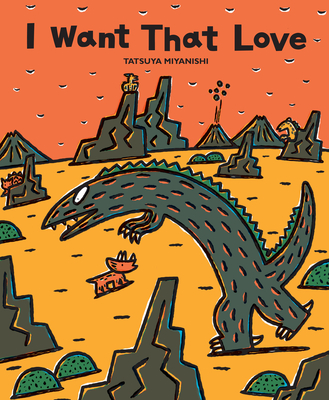 I Want That Love (Tyrannosaurus Series) (Hardcover)
Museyon, 9781940842141, 40pp.
Publication Date: December 1, 2016
Other Editions of This Title:
Paperback (7/1/2019)
* Individual store prices may vary.
Description
Although Tyrannosaurus storms around saying that power is everything in the world, he realizes he is getting weaker with age. After his tail gets bitten in a run-in with Masiakasaurus, some young Triceratops nurse him back to health. Touched by their innocent hearts, Tyrannosaurus begins to feel love for these new friends–even though he might have eaten them under different circumstances! So when two Giganotosaurus attack the group, Tyrannosaurus fights them off, holding the children tightly to his body, and sacrificing himself in order to protect them from the Giganotosaurus. The third title in this acclaimed series, I Want That Love explains that love is far more important than power. 
About the Author
Tatsuya Miyanishi graduated from the Nihon University College of Art and was a doll artist and graphic designer before becoming a picture-book author. Miyanishi's books have a passionate fan base of all ages that enjoys his range of endearing characters in many genres, from superheroes to dinosaurs. He has won the Kodansha Cultural Award for Picture Books, as well as the Kenbuchi Picture Book Grand Prize.
Praise For I Want That Love (Tyrannosaurus Series)…
"'Violence isn't the answer. There is something more powerful than strength, and more precious too. That is love.' It is refreshing to see male characters behaving in physically and emotionally nurturing ways, and the underlying message that it is never too late to change is valuable indeed. Only the coldblooded will fail to be moved by this poignant story." —Vicky Smith, Kirkus Reviews
"I Want That Love is a very enjoyable read that teaches the importance of friendship, love and tenderness. Young readers will also learn how life's most important lessons can be passed down from generation to generation." —Rashaad Jorden, JQ Magazine
"With its themes of friendship and love, this refreshing take on the bully story is a strong purchase for most elementary collections." —Danielle Jones, School Library Journal