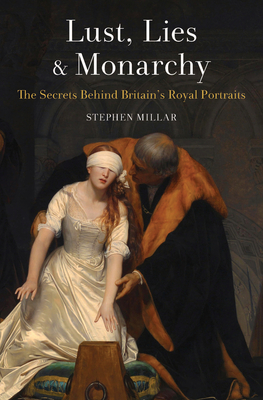 Lust, Lies and Monarchy
The Secrets Behind Britain's Royal Portraits
Paperback

* Individual store prices may vary.
Description
One day in the 1860s, so the story goes, an ambitious up-and-coming female sculptor was making love to an older, married man in an art studio. It was complicated because the man was not only one of the most famous sculptors in the country, but the young woman's teacher and mentor. Things got worse when they were rudely interrupted by the woman's mother, accompanied by her faithful servant. The mother, shocked at what she had stumbled across, was dressed in black, still mourning the death of her beloved husband. She screamed at her daughter.

And on this occasion, the young woman screamed back, one of the very few people who would dare stand up to such a formidable figure. The daughter accused her mother of hypocrisy, of having an affair with the kilted servant who stood by her side, and threatened to expose her mother's affair to the wider world if she continued to menace her. (An excerpt from the Chapter XIII)

People have long been fascinated by the stories behind royal portraits. This volume takes readers inside royal families by way of great paintings, like Holbein's Henry VIII, van Dyck's Charles I, Millais' The Princes in the Tower, Freud's Elizabeth II, and more. Featuring incredible, little known stories of the royals and illustrates, this beautiful collection is illustrated with color paintings, photos, family trees and Royal London walking tours with maps.
Praise For Lust, Lies and Monarchy: The Secrets Behind Britain's Royal Portraits…
"There has been a lot of books written about royal history, and it is rare to find a new perspective. However, Stephen Millar has done just that. When I spotted this book on NetGalley, I knew that it would be a perfect summer afternoon read. (After pushing through several lengthy Queen Victoria biographies, this was a needed cleanse!) This book looks at different paintings showing different episodes in English/British royal history. You have the usual suspects like the Princes in the Tower and Hans Holbein's portrait of Henry VIII. However, Millar also includes some interesting choices, like Lucien Frued's Elizabeth II from the twenty first century, and a touching portrait of George VI and his family that you don't often see. It is a wonderful mixture of well-known and lesser-known figures, and it reads very easily. The Royal London walking tours are a great bonus for anyone who finds themselves in London. (I should say, find themselves in London at a time when they are allowed to walk around!). It is a fast read, I would say it would take an afternoon or evening." —An Historian About Town
Museyon, 9781940842288, 268pp.
Publication Date: June 1, 2020
About the Author
Stephen Millar is the author of London's Hidden Walks. He has written and provided photographs for a number of magazines and books including the Independent on Saturday.
or
Not Currently Available for Direct Purchase