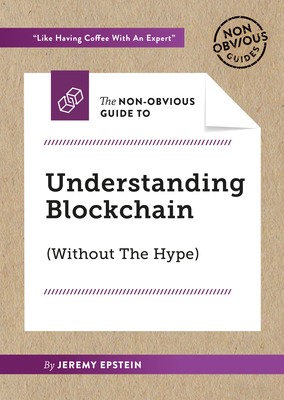 The Non-Obvious Guide to Understanding Blockchain (Without the Hype) (Non-Obvious Guides #8) (Paperback)
Ideapress Publishing, 9781940858753, 175pp.
Publication Date: December 1, 2021
* Individual store prices may vary.
Description
Why are guidebooks on technology like blockchain so useless?
Too many are filled with empty theories, fabricated frameworks and lots and lots (and lots) of useless fluff. What if you could get the advice you need from a real expert in an easy to access format you can really use? The Non-Obvious Guide To Understanding Blockchain (Without The Hype) is the guidebook you've been Googling for.
Within these pages you'll get the answers to some of the most frequently asked questions about what blockchain is and how it really works. What's the relationship between blockchain and cryptocurrency? What industries are likely to be disrupted first by blockchain technology? What practical applications are we likely to see in the near future for blockchain? How can you think strategically about applying blockchain technology to your own situation?
These are just a few of the common questions that you will get answers to in this book. Inspired by broad research and conversations with many of the most pioneering thinkers today around the power of blockchain, this is the rare guide that is at least as useful as a great YouTube video or an epic blog post ... and the only way you can get this useful advice in one place.