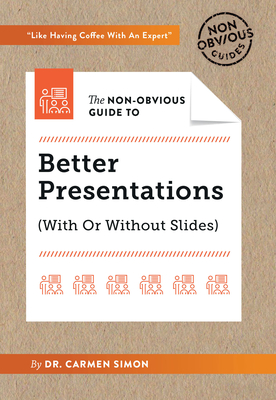 The Non-Obvious Guide to Better Presentations (Non-Obvious Guides #6) (Paperback)
Ideapress Publishing, 9781940858937, 135pp.
Publication Date: December 1, 2020
* Individual store prices may vary.
Description
What is the real secret to being more persuasive when presenting to any audience? How can you choose the best visuals to enhance your message? What do the best presenters in the world know about reinventing their approach to using slides? This is the guidebook to presentations that you've been searching for. How can you avoid death by Powerpoint? What is the brain science behind why great visuals matter to support your arguments? How can you create more memorable and persuasive presentations? Inspired by working with hundreds of professionals to make their messages more powerful, Carmen Simon brings her award-winning approach to presentation skills to this short guide to everything you need to know to become a Powerpoint master ... including knowing when not to use it.