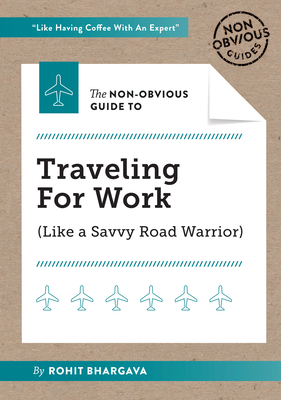 The Non-Obvious Guide to Traveling for Work (Non-Obvious Guides #7) (Paperback)
Ideapress Publishing, 9781940858944, 135pp.
Publication Date: December 7, 2021
* Individual store prices may vary.
Description
How do you pack a small suitcase to optimize your luggage and still be ready for any occasion? What are the insider secrets of the travel industry that only elite business travelers know? How can you keep strong relationships with friends and family no matter how often you travel? Life on the road can be glamorous, fulfilling, lonely and hectic all at once. Professionals who spend their careers on the road routinely create their own lifehacks to survive. What if you could sit down for a coffee with them all at once and get their best advice? That, of course, would be impossible ... but this book is the next best thing. As a professional speaker, consultant and longtime road warrior since his early 20s, Rohit Bhargava has logged nearly two million miles traveling to over 50 countries for work. In this book, he takes everything he has learned and combines it with the most useful tips from dozens of fellow travelers to create the ultimate guide to traveling for work. Whether you are currently a frequent business traveler or getting ready to take your first business trip, the advice in this book will help to conquer your next journey (and every one after that ) like seasoned road warrior.