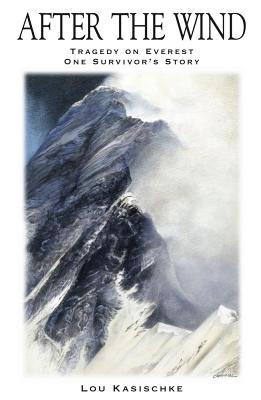 After The Wind
Tragedy on Everest One Survivor's Story
Paperback

* Individual store prices may vary.
Other Editions of This Title:
Hardcover (2/1/2014)
Description
May 10, 1996 is the date of the most historic tragedy in Mount Everest history. Eight climbers died. Lou Kasischke was there. He lived that story. The climbing events and the forces of nature were at the extreme, especially when things went wrong. The drama near the summit was high. But the crux of the story has much in common with everyday life. This was Lou's struggle with himself 400 feet from the summit, when he faced a tough decision and conflicting internal voices about what to do. The story is an example of how and where to go for the guidance and strength needed in such moments. Lou tells the story about what happened and what went wrong. But Lou's personal story is more than about being there. It's also about his long aftermath journey to understand his experience, to find meaning in it, and to find guidance from it for his future goals and challenges. The story is both sad and triumphant.
Praise For After The Wind: Tragedy on Everest One Survivor's Story…
"A thorough analysis of the 1996 Everest disaster... and the best preparation for my Everest assent." — Jean Pavillard, IFMGA Swiss Mountain Guide

"Kasischke's account provides an eye-opening look at the perils and extreme conditions on Everest. Evocative illustrations by Jane Cardinal further enhance the text, and includes maps and time lines." — Publishers Weekly

"This riveting book examines what went wrong before and during the expedition ... including a series of ill-advised decisions just below the summit .... Kasischke also examines what holds true when all else fails, when survival is no longer likely. He offers a fascinatingly personal look at what he believes saved him. Ultimately, this is a survival story about love —of mountaineering, of God, and of the deep and abiding bond between a husband and wife." — The US Review of Books

"Kasischke offers a unique perspective ... the voice of experience. Kasischke's perspective and analysis of what happened ... may shock those who have relied on Into Thin Air, by Jon Krakauer, as the most accurate account of what happened .... Readers will be drawn into this thrilling book, which combines the author's obvious expertise with a page-turning style and a knack for vivid descriptions. You'll feel like you are there with him in a tent that's barely holding together in a raging storm at 26,000 feet, and you'll perhaps get a glimpse of what courage and fortitude means in a life or death situation ... Readers will truly understand the hard choices that were faced on Everest." — New York Book Festival

"Kasischke's book follows his real-life dance with death .... It is a thrilling tale of danger, courage, and love. With beautiful illustrations and thoughtful descriptions, the book is a loving ode to his wife Sandy and to his passion for climbing." — BlueInk Reviews
Good Hart Publishing LC, 9781940877037, 317pp.
Publication Date: October 8, 2015
About the Author
Lou Kasischke has lived his entire life in Michigan, but his enduring love of the mountains and alpine endurance sports have taken him to many remote parts of the world, on all seven continents. Lou's education includes a Bachelor of Arts degree in business and a Juris doctor degree in law from Michigan State University. Risk management was the major focus of his business degree from MSU. Already as a student, Lou was fascinated by risk, risk evaluation, and the concepts of taking and managing risk. For a career centered in finance analysis and law, he also became a certified public accountant and earned an advanced Master of Laws degree. Lou's work career experiences were multi-dimensional. In law, this included 35 years with Dykema Gossett, a national law firm, as a specialist in corporate and tax law and in representing venture capital businesses. He authored a leading book on corporate law and was selected by his colleagues for all editions of The Best Lawyers in America, which represents about one percent of the nation's lawyers. In business, Lou was a chief executive officer and a director and advisor to several major corporations on business and legal matters. His professional career, especially as a lawyer and a venture capital advisor, often focused on taking high-stakes business risks, managing risk, and making decisions with far-reaching consequences. This part of Lou's life made his several decades as a serious mountain climber a natural extension. And it also explains his perspective and the important purpose that led him to closely examine, analyze, and explain what went wrong on Everest and his experience of being there, based on the facts that matter and not on the sensational and irrelevant. Lou is retired from law and business and lives on the northern shore of Lake Michigan. He remains active with alpine sports and other endurance challenges in the great outdoors.