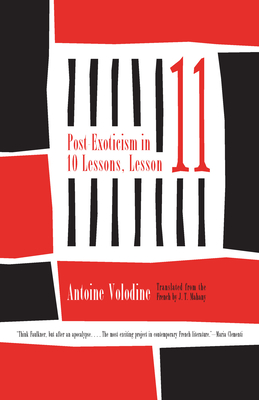 Post-Exoticism in Ten Lessons, Lesson Eleven (Paperback)
Open Letter, 9781940953113, 100pp.
Publication Date: May 12, 2015
* Individual store prices may vary.
Description
"The interconnected works of Volodine--think Faulkner, but after an apocalypse--constitute the most exciting project in contemporary French literature."--Maria Clementi
That is what we had called post-exoticism. It was a construction connected to revolutionary shamanism and literature. . . . It was an interior construction, a withdrawal, a secret welcoming land, but also something offensive that participated in the plot of certain unarmed individuals against the capitalist world and its countless ignominies. This fight was now confined solely to Bassmann's lips.
Like with Antoine Volodine's other works (Minor Angels, We Monks & Soldiers), Post-Exoticism in Ten Lessons, Lesson Eleven takes place in a corrupted future where a small group of radical writers--those who practice "post-exoticism"--have been jailed by those in power and are slowly dying off. But before Lutz Bassmann, the last post-exoticist writer, passes away, a couple journalists will try and pry out all the secrets of this powerful literary movement.
With its explanations of several key "post-exoticist" terms that appear in Volodine's other books, Lesson Eleven provides a crucial entryway into one of the most ambitious literary projects of recent times: a project exploring the revolutionary power of literature.
Antoine Volodine is the author of dozens of books under a few different pseudonyms, including Lutz Bassmann and Manuela Draeger. These novels--several of which are available in English--articulate a post-exoticist universe filled with secrets, revolutionary writers, and spiders.
J. T. Mahany is a graduate of the University of Rochester's MA in Literary Translation Studies program and is currently enrolled in the MFA program at the University of Arkansas.
About the Author
Antoine Volodine is the primary pseudonym of a French writer who has published 20 books under this name, several of which are available in English translation, including Minor Angels, Naming the Jungle, and Writers. He also publishes under the names Lutz Bassmann (We Monks and Soldiers) and Manuela Draeger (In the Time of the Blue Ball). Most of his works take place in a post-apocalyptic world where members of the "post-exoticism" writing movement have all been arrested as subversive elements. Together, these works constitute one of the most inventive, ambitious projects of contemporary writing.J.T. Mahany is a graduate of the masters program in literary translation at the University of Rochester. He is currently translating several books by the enigmatic and intriguing French author, Antoine Volodine.
or
Not Currently Available for Direct Purchase