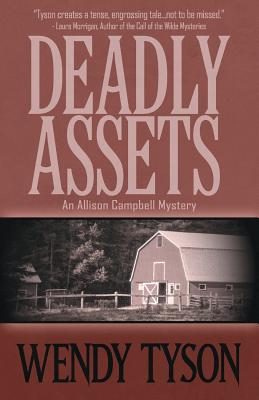 Deadly Assets
Paperback

* Individual store prices may vary.
Other Editions of This Title:
Digital Audiobook (1/17/2018)
Hardcover (7/23/2014)
MP3 CD (1/18/2018)
Compact Disc (1/18/2018)
Description
DARK AND EDGY WITH LAYERS OF INTRIGUE... "Tyson creates a tense, engrossing tale by weaving vivid descriptions with thrilling threads of family secrets, greed and the shadow of an unknown threat. The Allison Campbell mystery series is not to be missed " - Laura Morrigan, Author of the Call of the Wilde Mysteries An eccentric Italian heiress from the Finger Lakes. An eighteen-year-old pop star from Scranton, Pennsylvania. Allison Campbell's latest clients seem worlds apart in every respect, except one: Both women disappear on the same day. And Allison's colleague Vaughn is the last to have seen each. Allison's search for a connection uncovers an intricate web of family secrets, corporate transgressions and an age-old rivalry that crosses continents. The closer Allison gets to the truth, the deadlier her quest becomes. All paths lead back to a sinister Finger Lakes estate and the suicide of a woman thirty years earlier. Allison soon realizes the lives of her clients and the safety of those closest to her aren't the only things at stake. Praise for DEADLY ASSETS: "The mystery is firm and well-explained, and great fun to follow, but it's the rich relationships Tyson has created that this reader will carry away from the book...I will be following Allison Campbell and her cohorts with a great deal of interest in all the books to come. There had better be a lot more." - Stephanie Jaye Evans, Author of the Sugar Land Mystery Series "A mystery is only as good as its characters, and Deadly Assets is filled with vivid people who will keep readers turning the pages to find out what happens to them...Allison herself is savvy and likable, with an unusual job that promises many satisfying installments in this well-written series. Highly recommended " - Sandra Parshall, Agatha Award-Winning Author of the Rachel Goddard Mysteries "No sophomore slump for Wendy Tyson. Two totally different clients, two mysterious disappearances, two sets of suspects, and lots of possibilities all make for a tightly woven mystery with lots of twists and turns." - Fiction Addiction Books "Dark and edgy with multiple layers of intrigue, the Allison Campbell series keep me up late trying to piece together Tyson's intricate puzzles. I love the complexity of this mystery." - Larissa Reinhart, Author of the Cherry Tucker Mystery Series "Tyson crafts characters who are real and we can believe in which makes us willing to follow them anywhere. Excellent page turner. Can't wait for the next installment." - Shannyn Schroeder, Author of the O'Leary Series Contemporary Romances Books in the Allison Campbell Mystery Series: KILLER IMAGE (#1) DEADLY ASSETS (#2) DYING BRAND (#3) May 2015 Part of the Henery Press Mystery Series Collection, if you like one, you'll probably like them all...
Henery Press, 9781940976211, 306pp.
Publication Date: July 22, 2014