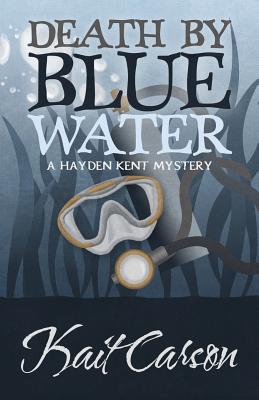 Death by Blue Water (Paperback)
Henery Press, 9781940976464, 246pp.
Publication Date: November 11, 2014
Other Editions of This Title:
Hardcover (11/11/2014)
* Individual store prices may vary.
Description
RELENTLESSLY SUSPENSEFUL DEEP-SEA ADVENTURE... "Kait Carson's Florida is dead on in this action-packed mystery The enviable setting, compelling characters, and the author's expertise on diving make for a fresh plot and an intriguing story masterfully woven into a satisfying conclusion." - Krista Davis, New York Times Bestselling Author of the Domestic Diva Mysteries Sub-Genre Keywords: Suspense, Women Sleuths, Murder Mystery Books Paralegal Hayden Kent knows first-hand that life in the Florida Keys can change from perfect to perilous in a heartbeat. When she discovers a man's body at 120' beneath the sea, she thinks she is witness to a tragic accident. She becomes the prime suspect when the victim is revealed to be the brother of the man who recently jilted her, and she has no alibi. A migraine stole Hayden's memory of the night of the death. As the evidence mounts, she joins forces with Officer Janice Kirby. Together the two women follow the clues that uncover criminal activities at the highest levels and put Hayden's life in jeopardy while she fights to stay free. Praise for DEATH BY BLUE WATER: "Dive in This compelling, timely, and relentlessly suspenseful deep-sea adventure-with its undercurrent of chilling secrets-won't let you go Readers won't come up for air until the very last page." - Hank Phillippi Ryan, Agatha, Anthony, Daphne, and Mary Higgins Clark Award-Winning Author of Truth Be Told "The highlights of this debut novel are the beautiful descriptions of the underwater dives as well the complicated details involved that protect the divers' safety. The author achieves in making the appeal and beauty of recreational diving worth risking the many dangers surrounding it, strengthening the heroine's character and making her a protagonist the reader will want to succeed." - Kings River Life Magazine "You get drawn into the action almost as if you are watching it in real time. I found it difficult to stay with the current story and not turn to the end to find out the conclusion. But all the twists and turns are worth it, and don't give in, because you'll enjoy the ending more if you wait. A great book, highly recommended." - Any Good Book Books in the Hayden Kent Mystery Series: DEATH BY BLUE WATER #1 DEATH BY DOUBLOONS #2 (Fall 2015) Part of the Henery Press Mystery Series Collection, if you like one, you'll probably like them all... Author Bio: Kait Carson has been writing mysteries since the fourth grade when she penned the words, "pop, pop, pop, here comes the cop" for a story poetry assignment. She opted for a career as a paralegal practicing in the area of probate, tax, and probate litigation. When she's not writing, you can find her scuba diving or in the air with her pilot husband. Kait lives with her husband, eight (count 'em) rescue cats, a cockatoo, and a harlequin macaw at an airpark in Fort Denaud, Florida.