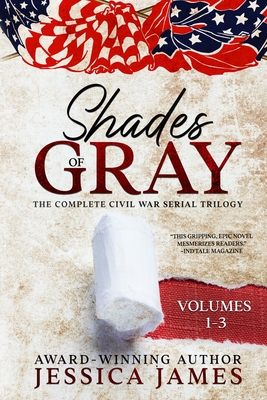 Shades of Gray
Complete Civil War Serial Trilogy: Complete Civil War Serial Trilogy
Paperback

* Individual store prices may vary.
Other Editions of This Title:
Paperback (1/19/2008)
Description
Honor and conviction clash with loyalty and love in this sweeping Civil War tale that pits brother against brother. The Shades of Gray Civil War Serial Trilogy consists of three books: Duty Bound, Honor Bound, and Glory Bound.
Colonel Alexander Hunter would rather die than see the Union set foot on his beloved Virginia soil. And while he holds the line against Northern aggression with legendary skill, a treacherous boy on horseback always thwarts his offensives. His allegiance is tested when the traitor he unmasks is the woman he once swore to his brother he would protect.
Andrea Monroe would do anything to make her country whole again. A Southern-born Union spy, she's dedicated to undermining the arrogant Confederate officer. When she's taken captive and badly injured, Andrea is shocked to wake up in the legendary home of her nemesis, rather than prison.
As prisoner and captor spend time together, their mutual loyalty grows into unexpected devotion. But as fresh conflicts arise, they again, cross swords.
Can two adversaries reach beyond the battle lines to unite in the midst war?
The Shades of Gray Civil War Serial Trilogy is a powerful exploration into a defining era of American history. If you like emotional journeys, rich Southern backdrops, and epic stories of devotion, then you'll adore Jessica James's captivating Civil War adventure.
Shades of Gray, first published in 2008, was later published as Noble Cause, with a new happily-ever-after ending.
What they said about Shades of Gray:
"It is a book I think could have the impact of a 'Gone With the Wind." - J. Noyalas, Assistant Professor of History
"The best Civil War fiction book since Cold Mountain." - J. Bibb, SCV, Trimble Camp 1836
"Andrea and Alex will surely take the place in my heart of Rhett and Scarlett as the perfect Civil War fictional love story " - A. Deyarmin
"I am reluctant to admit I enjoyed it (Shades of Gray) more than Gone With the Wind This book takes you through so many emotions " - Reviewer
"Not since reading Gone With the Wind have I enjoyed a book so much as Jessica James's Shades of Gray I could not put Shades of Gray down, from start to finish " - S. Winch
Patriot Press, 9781941020432, 788pp.
Publication Date: June 29, 2021