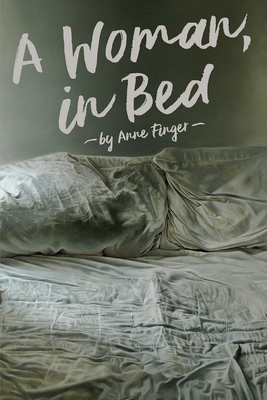 A Woman, in Bed (Paperback)
Cinco Puntos Press, 9781941026748, 304pp.
Publication Date: June 5, 2018
* Individual store prices may vary.
Description
Simone comes of age during World War I. She comes into her own in World War II as part of the French resistance. Frequently, she abandons herself to lust--particularly to a man named Jacques. She leaves her first husband for him and spends over a decade as his lover. They eventually marry, yet Simone still sleeps with strangers, her husband the most distant of them all. What is she seeking? Simone isn't sure. More than sex--a tenderness that lust can never fill. Just when her body feels most fragile, she meets Pierre, a much younger man, a novice at love-making, clumsy and overly emotional, a fool--yet there is something about him. A lifelong love story not about the relationship between two lovers, but between a woman and her body.
Anne Finger is a writer of fiction--short stories and a novel--as well as creative non-fiction. Her short story collection, Call Me Ahab, winner of the Prairie Schooner Award, was published in the fall of 2009 by the University of Nebraska Press. She has had four other books published. Her short fiction has appeared in The Southern Review, Kenyon Review, Discourse, and Ploughshares. She has taught creative writing at the university level as well as teaching workshops in the community. She has also been awarded residencies at MacDowell, Yaddo, Djerassi, Centrum, and Hedgebrook. She lives in Oakland, California.
About the Author
Activist, educator, and cultural worker Anne Finger has long been prominent in the U.S. disability movement. The author of three volumes of fiction and two memoirs, she has served as President of the Society for Disability Studies, written for Disability Studies Quarterly, and contributed to countless disability anthologies and conferences; at present, she is the board president of AXIS Dance Company, an organization started by disabled people. In 2019, she was the Holtzbrinck Fellow at the American Academy in Berlin. In addition to disability-specific work, her career of activism extends from the 1960s peace movement to the Occupy movement: she has marched on the Pentagon and helped to shut down the Port of Oakland. Finger's first book, the 1988 story collection Basic Skills, contains several disability-themed works, two of them drawing on her childhood experiences of polio. Her 1990 memoir Past Due: A Story of Disability, Pregnancy, and Birth, integrates accounts of her early life, her social activism, and her experiences at the hands of the medical profession, both as a polio survivor and as the mother of a baby in intensive care. In the process it explores the impact of sexist and ableist oppressions on her life and mind, and dramatizes her struggles with them. Her 1994 novel Bone Truth, incorporating a number of autobiographical elements, tells a story of a woman considering motherhood and struggling to frame a narrative explaining her own life and her difficult parents, particularly her abusive father. Among many other things, it is a historical critique of masculinism on the Old and New Left. With 2006's Elegy for a Disease: A Personal and Cultural History of Polio, Finger produced an anti-individualist memoir, one that integrates her own experiences and feelings into a wealth of social and historical contexts. The stories collected in her 2009 Call Me Ahab, like Elegy, aspire to reveal the breadth of disability culture. The volume is a postmodern tour de force that re-envisions the experiences of legendary disabled characters from art, fiction, and history, through a disability-justice perspective.