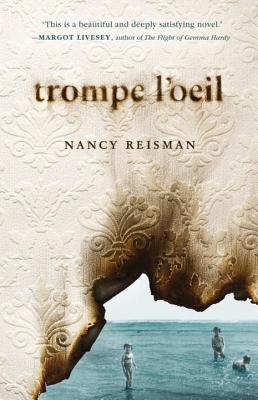 Trompe l'Oeil
A Novel
Paperback

* Individual store prices may vary.
Description
Set against a backdrop of Rome, Renaissance artworks, and images of Mary Magdalene, Trompe l'Oeil portrays the ripple effects of a family tragedy and the ways in which its members perceive and misperceive themselves and each other.
During a vacation in Rome, the Murphy family experiences a life-altering tragedy. In the immediate aftermath, James, Nora, and their children find solace in their Massachusetts coast home, but as the years pass the weight of the loss disintegrates the increasingly fragile marriage and leaves its mark on each family member. Trompe l'Oeil seamlessly alternates among several characters' points of view, capturing the details of their daily lives as well as their longing for connection and fear of abandonment. Through the turbulence of marriage, the challenges of parenthood, job upheavals, and calamities large and small, Trompe l'Oeil examines family legacies, the ways those legacies persist, and the ways they might be transcended. Nancy Reisman is a master of psychological acuity, creating characters who are wholly unique and yet express our own longings and anxieties. Trompe l'Oeil haunts not only with its story but also with the beauty of its insight into hopes, desires, and fears.
Praise For Trompe l'Oeil: A Novel…
Genuinely satisfying, heart-shaking novels combine an absolute narrative authority with an apparently effortless style. You question nothing, savor every phrase and nuance, live willingly within their pages from the first word to the last.... 'Trompe L'Oeil' is one such book... There's a bright elasticity to Reisman's prose that only adds to [the] sense of possibility.... Rendered here, you feel, in startling and almost painterly form is life itself ... This novel doesn't just 'trompe' the 'oeil,' it reinvents it.


[W]ith shades of The Ice Storm and Revolutionary Road, Reisman offers a poignant
portrait of a family undergoing a gradual, permanent transformation.

An eloquent exploration, from several perspectives, of one family's life following unimaginable loss.


A realistic and gorgeously written story...

In Trompe l'Oeil Nancy Reisman has created something amazing and mysterious: a portrait of a family that is also a portrait of how that family lives in the aftermath of grief. With wonderful skill and intelligence she shows us the Murphys over more than two decades as both parents and children finally step into their own lives. Their journey, the portraits of their journey, are deepened by Reisman's vivid sense of place and framed by her exquisite descriptions of paintings. This is a beautiful and deeply satisfying novel.


Nancy Reisman's mesmerizing Trompe l'Oeil is itself a magic trick. A dead child resists all erasure, while the most substantial-seeming family dissolves. Houses vanish when one's back is turned. Carefully charting the contours of absence, in prose as wise as it is beautiful, Reisman shows us that loss is a presence, another way to trick the eye — and the heart.


What I have always admired about Nancy Reisman's writing is how absolutely gorgeous it is, and in Trompe l'Oeil her writing astonishes me even more. She writes about the weight of loss with beauty and honesty and grace. Simply a beautiful novel."—


Trompe l'Oeil is perfect for book clubs because it offers so much fodder for discussion: How do we define 'fault'? When does a house change from being a home to being a trap? Is it inevitable that children born after the death of a sibling will be considered mere replacements for the one lost? Nancy Reisman, in this gentle, tragic novel, makes the reader feel as one with the Murphy family—living, grieving, falling apart—their trajectory inevitable. Or is it?

Tin House Books, 9781941040034, 352pp.
Publication Date: May 12, 2015
About the Author
Nancy Reisman's debut novel, The First Desire, was a New York Times Notable Book and a recipient of the Goldberg Award from the Foundation for Jewish Culture. Her story collection, House Fires, won the Iowa Award for Short Fiction. Her short fiction has appeared in many journals and anthologies, including Tin House, Glimmer Train, the Yale Review, SubTropics, Michigan Quarterly Review, Kenyon Review, Five Points, Narrative, The Best American Short Stories (2001), and The O'Henry Award Stories (2005). Reisman has received fellowships and awards from the National Endowment for the Arts, the Tennessee Commission on the Arts, the Wisconsin Institute for Creative Writing, and the Fine Arts Work Center in Provincetown. She teaches at Vanderbilt University and lives in Nashville, TN.
or
Not Currently Available for Direct Purchase