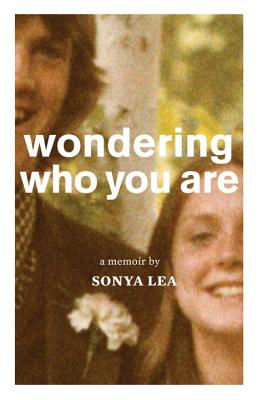 Wondering Who You Are
A Memoir
Paperback

* Individual store prices may vary.
Other Editions of This Title:
Compact Disc (7/13/2015)
MP3 CD (7/13/2015)
Description
In exploring her husband's traumatic brain injury and loss of memory, Sonya Lea has written a memoir that is both a powerful look at perseverance in the face of trauma and a surprising exploration into what lies beyond our fragile identities.
In the twenty-third year of their marriage, Sonya Lea's husband, Richard, went in for surgery to treat a rare appendix cancer. When he came out, he had no recollection of their life together: how they met, their wedding day, the births of their two children. All of it was gone, along with the rockier parts of their past—her drinking, his anger. Richard could now hardly speak, emote, or create memories from moment to moment. Who he'd been no longer was.
Wondering Who You Are
braids the story of Sonya and Richard's relationship, those memories that he could no longer conjure, together with his fateful days in the hospital—the internal bleeding, the near-death experience, and eventual traumatic brain injury. It follows the couple through his recovery as they struggle with his treatment, and through a marriage no longer grounded on decades of shared experience. As they build a fresh life together, as Richard develops a new personality, Sonya is forced to question her own assumptions, beliefs, and desires, her place in the marriage and her way of being in the world. With radical candor and honesty, Sonya Lea has written a memoir that is both a powerful look at perseverance in the face of trauma and a surprising exploration into what lies beyond our fragile identities.
Praise For Wondering Who You Are: A Memoir…
In this brave, inspiring memoir she recounts the losses, and what it took to rebuild.
— People
Her stunning account of his recovery efforts and her willful refusal to give up on marriage to the stranger occupying her husband's body is fantastically heartfelt and inspiring.
— Booklist, STARRED review
Wondering Who You Are 
a quietly wrenching memoir that's as much about what makes any of us who we are as it is about Lea's own story.
— Minneapolis Star Tribune
With poetic prose and remarkable candor, lea shares the details of helping her husband regain a sense of purpose...and her own difficult transition.
— Seattle Magazine
This meditation on love and loss left me filled with wonder
. Sonya Lea considers every possibility—the full span of understanding, from science to shamans to sex—in an effort to rediscover her husband and, in the process, what makes us uniquely human: our memories of who we are. Words like 'honest' and 'intimate' don't even begin to describe this remarkable journey.
— Brian Castner, author of The Long Walk: A Story of War
An engrossing journey of self-discovery and fierce devotion.
— Kirkus
An intense and accomplished memoir
. . . This sweet, erotic, wrenching story asks quintessential questions about memory, the constructed self, and love—its challenges and deep compensations.
— Priscilla Long, author of The Writer's Portable Mentor: A Guide to Art, Craft, and the Writing Life
An incredibly intimate and honest memoir
, 
Wondering Who You Are
 shows more vividly than any work of nonfiction I've read in years the endlessly complex and delicate nature of identity. In particular, the book movingly reveals how mutable all relationships are, how metamorphosis on one side of a partnership necessitates metamorphosis on the other—we are all constantly changing.
— Peter Mountford, author of The Dismal Science
Sonya Lea tells her extraordinary story extraordinarily well. She has a rare ability to bring readers to the places where love and sex intermingle, collide, or go their separate ways. 
Wondering Who Your Are is an amazing accomplishment. Every page sparkles with wisdom, candor, insight, and love.
— Chris Ryan - Author of Sex at Dawn: How We Mate, Why We Stray, and What It Means for Modern Relationships
"[A] heartbreakingly honest memoir . . . will touch listeners with its compassion and
grace." —Booklist,
STARRED
— STARRED Booklist (for Audio)
Sonya Lea's 
Wondering Who You Are 
is an extraordinary story. A wrenching, deeply honest exploration of love and identity that made me question my ideas about memory, about gender, about marriage and family and faith. About the whole human rigmarole.
Her story does what the best stories do: it made me think about life in an entirely new way
.
— Suzanne Morrison, author of Yoga Bitch, One Woman's Quest to Conquer Skepticism, Cynicism, and Cigarettes on the Path to Enlightenment
A beautiful writer…
— Dr. Oz
Tin House Books, 9781941040072, 336pp.
Publication Date: July 13, 2015
About the Author
Sonya Lea's essays and interviews have appeared in Salon, The Southern Review, Brevity, Cold Mountain Review, Tricycle, The Prentice Hall College Reader, and The Seattle Post-Intelligencer, and excerpts from Wondering Who You Are have received an international memoir prize and an Artist Trust Award. Lea teaches writing at Hugo House in Seattle, and she's leading a pilot project to teach writing to women veterans through Tom Skerrit's Red Badge Project. She recently directed her first short film, Every Beautiful Thing, which will play in festivals in spring 2015. Originally from Kentucky, she currently lives in Seattle, Washington. Find her at www.sonyalea.net
Coverage from NPR
or
Not Currently Available for Direct Purchase