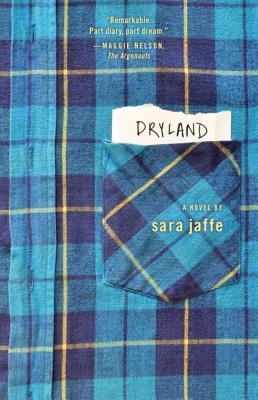 Dryland
Paperback

* Individual store prices may vary.
Other Editions of This Title:
MP3 CD (8/23/2016)
Compact Disc (1/7/2020)
Description
Sara Jaffe's engrossing debut novel, Dryland, is a smart coming-of-age novel that charts the murky waters of adolescence.
Anything can happen when Julie hits the water.
It's 1992, and the world is caught up in the HIV/AIDS epidemic and the Balkan Wars, but for Julie Winter, 15, the news is noise. In Portland, Oregon, Julie moves through her days in a series of negatives: the skaters she doesn't think are cute, the Guatemalan backpack she doesn't buy at the craft fair, the umbrella she refuses to carry despite the incessant rain. Her family life is routine and restrained, and no one talks about Julie's older brother, a one-time Olympic hopeful swimmer who now lives in self-imposed exile in Berlin. Julie has never considered swimming herself, until Alexis, the swim team captain, tries to recruit her. It's a dare, and a flirtation—and a chance for Julie to find her brother, or to finally let him go. 
Praise For Dryland…
Jaffe's directness of style . . .lends itself well to the emotional tenor of adolescence.
— New York Times Book Review

Jaffe's exceptional debut, a heartfelt coming-of-age story set in Portland, Ore., in 1992, exquisitely captures the nostalgia and heartbreak of youth.
— Publishers Weekly, STARRED REVIEW

Its title notwithstanding, this moody coming-of-age novel is soaked in the damp of Oregon winters and poolside locker rooms. Julie, a high-school student, joins the swim team, hoping to orbit a female crush and to understand the disappearance of her brother, a former Olympic hopeful. She is exquisitely attuned to itches and aches—the constriction of a new bathing suit, the throb of a full bladder. Only the pool releases her to a dimension 'like sugar, like a dream.' Jaffe's meticulous, frank texturing keeps the sex talks and scenes from sinking under tropes of adolescent awakening and presents queer desire as just one of Julie's innumerable, unstoppable sensations.

— The New Yorker

Sara Jaffe is a damn fine writer and an important new voice.
— Justin Torres, author of WE THE ANIMALS

A coming-of-age story about a young girl's growing awareness—of sexuality, loss, and family truths. . . . [W]e relive the awkward agonies of adolescence, so well-sketched by Jaffe . . . Moving sideways with its weight of secrets, this novel never strikes a false note.
— Kirkus

A solid addition for libraries looking to strengthen their
collections with fiction about the LGBTQ experience. 
— School Library Journal

The chronicle of a teenage girl in Portland
circa 1992, it reads like My So-Called Life's Angela Chase cut
with Annie Dillard, plus something all Jaffe's own.
— The Portland Mercury

Remarkable. It's realism, but its realism brushes ever so deftly against the allegorical, making the novel shimmer, part diary, part dream.
— Maggie Nelson, author of THE ARGONAUTS

Dryland is a gorgeous, layered, meticulous, clamoring, beating heart of a thing about a sullen teenager swimming and not swimming, kissing and not kissing, in Portland in the days of grunge. It will make you want to swim there back there back twenty times without stopping.

— Sarah Marcus, author of GIRLS TO THE FRONT

I love it. I don't know that I've ever read a book that felt more sincere, that was so unbesmirched by knowing irony or commentary or authorial interventions. It's a rare and sweet thing.
— Pete Rock, author of THE SHELTER CYCLE

Sara Jaffe offers a coming-of-age story so
steadily understated it'll ring incredibly true to those of us actually of
age.
— Bustle

Highly introspective, thoughtful, and compassionate, Dryland is an exacting and authentic coming-of-age story.

— Electric Literature

 Jaffe captures a perfect time capsule of an age when cassette tapes ruled
and personal phone extensions were the closest thing to a smart phone but when
growing up was still no easier than it is today.
— KGB

Sara Jaffe's Dryland is a poignant coming of age novel set in the Portland of the early '90s, a fascinating debut.

— Largehearted Boy

Dryland is is a unique portrayal of teenage angst, as well as an interesting and sincere perspective on a young woman's discovery of her own desires.

— Rain Taxi

The chronicle of a teenage girl in Portland circa 1992, it reads like My So-Called Life's Angela Chase cut with Annie Dillard, plus something all Jaffe's own.

— Portland Mercury

Achy in that way that nostalgia for the teen years is. Ethereal, shrouded in mist, like the Pacific Northwest the book is set in, seeming at once crisp and fuzzy. Like waking up from a really vivid dream.

— Keysmash

...a powerful book with a unique voice.

— A Bookish Affair

The real highlight of this month was Dryland by Sara Jaffe. It's such a small book, and it packs a huge punch. It takes place in the 90's, and somehow reminded me a lot of The Perks of Being a Wallflower ... It's about swimming, and families, and growing up, and so many things in under 200 pages. Amazing.

— Read A Latte
Tin House Books, 9781941040133, 240pp.
Publication Date: September 1, 2015
About the Author
Sara Jaffe's fiction has appeared in publications including Fence, BOMB, NOON, matchbook, and Paul Revere's Horse. She co-edited The Art of Touring (Yeti, 2009), an anthology of writing and visual art by musicians drawing on her experience as guitarist for post-punk band Erase Errata. She lives and teaches in Portland, OR.
or
Not Currently Available for Direct Purchase