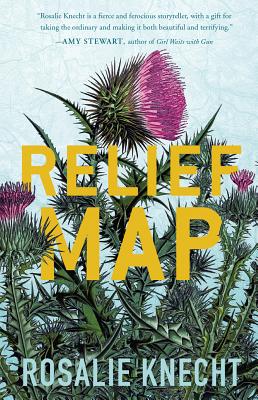 Relief Map (Paperback)
Tin House Books, 9781941040225, 275pp.
Publication Date: March 28, 2016
Other Editions of This Title:
Compact Disc (2/5/2019)
MP3 CD (2/5/2019)
Compact Disc (2/5/2019)
* Individual store prices may vary.
Description
A small town swept up in a manhunt for a fugitive from foreign soil and a teenage girl struggling to make the right choices with little information and less time.
In the heat of a stifling summer in her sixteenth year, Livy Marko spends her days in the rust-belt town of Lomath, Pennsylvania, babysitting, hanging out with her best friend, Nelson, and waiting for a bigger life to begin. These simple routines are disrupted when the electricity is cut off and the bridges are closed by a horde of police and FBI agents. A fugitive from the Republic of Georgia, on the run from an extradition order, has taken refuge in nearby hills and no one is able to leave or enter Lomath until he is found.As the police fail to find the wanted man and hours stretch into days, the town of Lomath begins to buckle under the strain. Like Russian dolls, each hostage seems to be harboring a captive of their own. Even Livy's parents may have something to conceal, and Livy must learn that the source of danger is not always what it appears.Rosalie Knecht's wise and suspenseful debut evokes the classics while conjuring the contemporary paranoia of the post-terrorist age. Relief Map doesn't loosen its grip until the consequences of this catastrophic summer, and the ways in which a quiet girl's fate can be rerouted and forever changed, are made fully apparent.
About the Author
Rosalie Knecht is the author of Who Is Vera Kelly? and Relief Map. She is the translator of César Aira's The Seamstress and the Wind (New Directions) and a Center for Fiction Emerging Writer Fellow. She resides in New York City.
Praise For Relief Map…
When the hunt for a fugitive causes police to institute a lockdown, everyday tensions in a quiet Pennsylvania town threaten to boil over in Knecht's atmospheric debut [...] Knecht expertly captures the subtle social dynamics of a town suspended in crisis, chronicling mounting anxiety in crisp, unfussy prose.

Moving between the perspective of a teenaged girl and a desperate fugitive,  RELIEF MAP combines elements of the coming-of-age pastoral with the political thriller.  Beautifully written,  heart-felt and mesmerizing,  this book puts Rosalie Knecht on the map as a major talent.
— Dan Choan, author of AWAIT YOUR REPLY

Relief Map is a first-rate literary thriller in the Hitchcock tradition, where a police blockade turns a small town into a pressure cooker, secrets unravel in the heat, and the real danger comes not from the criminals, but from the police and the not-so-innocent bystanders. A quietly chilling novel about the loss of innocence against the backdrop of the modern war on terrorism.

— Amy Stewart, GIRL WAITS WITH GUN

It's rare to read something that so perfectly captures the in-between of friendship or something more. You get the feeling that Livy is sticking her toe in the deep end, testing whether sex with Nelson could mean the end of their relationship, or the beginning of one even more delicate, complex, and lovely than they had before.


"The relationships between sixteen-year-old Livy Marko, her best friend Nelson, and their contrasting parents—hers are too lax; his are too strict—are forever altered when they become caught up in a robbery and kidnapping that go awry. The dying rust-belt town of Lomath, Pennsylvania, is road-blocked and its electricity cut off while the FBI conducts a house-by-house search for an international criminal who is believed to be hiding nearby. As the town lockdown continues, paranoia grows, long-hidden secrets are revealed, and Livy and Nelson learn that even unintentional actions can have irreparable consequences. This suspenseful microcosm of teenage ennui and isolation surprises the reader with a fresh premise and likable characters—an impressive debut of literary fiction with a strong YA crossover." 

— Shirley Wells, Watermark Books and Cafe, Wichita KS

In her beautifully written, fresh debut novel, Rosalie Knecht puts us smack in the middle of a heat wave in the waning days of summer in a small rust-belt town of Pennsylvania.  The high temperature, lack of breeze and ennui of the town are palpable.  As the town is quarantined from the outside world by police barricades a loss of power, its residents are caught up in the manhunt for a fugitive of the Republic of Georgia who's hiding in their midst.  Sixteen year-old Livy, her parents and the residents of Lomath, PA consider whether the real threat comes from the fugitive or rather from within their midst. This summer will change Livy's world forever.  Lulling prose, vivid characters and a sense of place make this a rich and memorable read from an exciting new talent.

— Linda McLoughlin Figel, Pages: A Bookstore, Manhattan Beach, CA
or
Not Currently Available for Direct Purchase