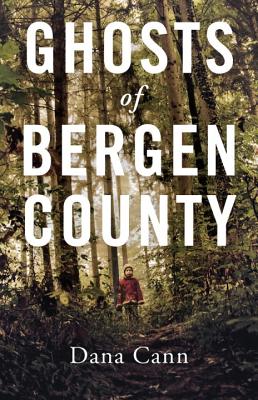 Ghosts of Bergen County
Paperback

* Individual store prices may vary.
Description
Set in New York City and New Jersey on the cusp of the financial crisis, Ghosts of Bergen County is a literary mystery with supernatural elements.
Gil Ferko is a private-equity lieutenant who commutes to Manhattan from the New Jersey suburbs. His wife, Mary Beth, has become a shut-in since a hit-and-run accident killed their infant daughter. When Ferko reconnects with Jen Yoder, a former high school classmate, Jen introduces him to heroin. As his dependency on the drug grows, his downward spiral puts his life in danger and his career in jeopardy. Mary Beth has also found an escape—first in prescription drugs that numb her senses, then in the companionship of a mysterious girl who heightens them. A ghost? Mary Beth believes so. And Jen is also haunted. Years ago she witnessed a man she had just met fall from a rooftop. She walked away from the accident and has been haunted since by the question of why she did so. As her quest to rectify that mistake starts to collide with the mystery of the hit-and-run driver who killed Ferko and Mary Beth's daughter, all of the characters are forced to face the fine line between fate and happenstance. Dana Cann's debut novel is a tautly paced and intricately plotted story in which collective burdens manifest into hauntings.
Praise For Ghosts of Bergen County…
These characters, their highs and lows, the ebbs and flows and eddies of their lives, and the literal and figurative hauntings that afflict them -- it all feels so real. Gil Ferko and his wife, Mary Beth, are still recovering, several years later, from the death of their infant daughter. Cann does such a remarkable job of conveying the precariousness with which they are both tiptoeing away from their numbness towards a more real engagement with their loss and with the world that keeps moving on. Mary Beth develops a daily ritual with a little girl who we eventually learn is a ghost, and finding out what happened to the girl helps to bring Mary Beth out of her fog. Ferko's job feels humdrum, so when he meets a couple of old acquaintances from high school, he is ripe to be moved by their influence, grateful for a downward spiral instead of indifferent inertia. His friend Jen is haunted and precarious too, and she reminds me of a gritty, lost 20- or 30-something from Laurie Weeks's Zipper Mouth. I think what Dana Cann has succeeded most in is creating characters that feel real and interesting and who eschew tired tropes while weaving their stories together in a really compelling way. And like Emily St. John Mandel's early fiction, Ghosts of Bergen County has intrigue and uncertainty that keep the pages turning, but it is also has amazing sentences and is firmly grounded in the literary.
— Emily Pullen, WORD Bookstore

Perfectly balanced prose… Absorbingly written, this will appeal to readers of literary fiction as well as high-end mystery.

— Library Journal

Ghosts of Bergen County is a tough, compassionate book by a writer with a keen sense of what makes us human, and what makes us, at times, wish we weren't. As a novel, it's excellent; as a meditation on grief, it's stunningly perceptive. 

— NPR

Cann's novel is an impressive, accomplished effort, nuanced in its depiction of complex interpersonal drama and eerie elements of the supernatural.

— Publishers Weekly

Elegantly written and sharply observed, Ghosts of Bergen County is both riveting and moving, a story about the love and longing that hold us together, as our ghosts conspire to tear us apart.

— Kimberly McCreight, New York Times best-selling author of Reconstructing Amelia and Where They Found Her

Ghosts of Bergen County is a beautiful, trenchant book. Dana Cann's characters are so complicated and vulnerable, so profoundly human and wounded, that they linger in the reader's memory like family snapshots. This is a courageous and revelatory novel, the beginning of a gifted writer's long career.

— Brett Anthony Johnston, author of REMEMBER ME LIKE THIS

Most novels set during the financial crisis never leave Lower Manhattan. But Dana Cann's debut novel, Ghosts of Bergen County, flits between New York City and suburban New Jersey in the summer of 2007…. The result is a chilling, moving exploration of loss, doubt, and addiction.

— Chicago Review of Books

Dana Cann picks up where John Cheever left off, riding the commuter rail from suburb to city with hotshot investment bankers and commodities traders, exhuming not-so-shiny lives of heroin, ghosts, and grief. A novel of the twenty-first century written with the wit and wisdom of the nineteenth. I felt haunted by Ghosts of Bergen County while reading it, and still do.

— Dan Pope, author of Housebreaking

Ghosts of Bergen County is addictive! Once I picked the book up I was unable to put it down. Within moments you care about the characters and what is going to happen to them on every page. The story is haunting, yet filled with real life struggles in our society. The ending blew me away and made me want to read the book all over again because I didn't want the story to end. Cann is definitely an author to watch in the future.

— David Logan, Bookends
Tin House Books, 9781941040270, 288pp.
Publication Date: April 25, 2016
About the Author
Dana Cann was born in Santa Barbara, California, and raised in the Maryland suburbs of Washington, DC, where he currently lives with his wife and their two teenage children. His short stories have been published in The Sun, The Massachusetts Review, The Gettysburg Review, Fifth Wednesday Journal, The Florida Review, and Blackbird, among other journals. He's received fellowships from the Virginia Center for the Creative Arts and the Mid Atlantic Arts Foundation. Cann earned his M.A. in Writing from Johns Hopkins University. He works in corporate restructuring and finance, and teaches fiction workshops at The Writer's Center in Bethesda, Maryland.
or
Not Currently Available for Direct Purchase