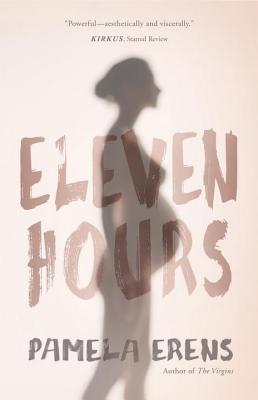 Eleven Hours
Paperback

* Individual store prices may vary.
Other Editions of This Title:
Digital Audiobook (5/2/2016)
Description


An NPR Best Book of 2016



A New Yorker Book We Loved in 2016


Named to Kirkus Reviews' Best Books of 2016


The Millions Most Anticipated Book of 2016


Flavorwire Most Anticipated Book


From the critically acclaimed author of The Virgins, Eleven Hours is an intimate exploration of the physical and mental challenges of childbirth, told with unremitting suspense and astonishing beauty.

Lore arrives at the hospital alone—no husband, no partner, no friends. Her birth plan is explicit: she wants no fetal monitor, no IV, no epidural. Franckline, a nurse in the maternity ward—herself on the verge of showing—is patient with the young woman. She knows what it's like to worry that something might go wrong, and she understands the distress when it does. She knows as well as anyone the severe challenge of childbirth, what it does to the mind and the body.
 Eleven Hours
is the story of two soon-to-be mothers who, in the midst of a difficult labor, are forced to reckon with their pasts and re-create their futures. Lore must disentangle herself from a love triangle; Franckline must move beyond past traumas to accept the life that's waiting for her. Pamela Erens moves seamlessly between their begrudging partnership and the memories evoked by so intense an experience: for Lore, of the father of her child and her former best friend; for Franckline, of the family in Haiti from which she's exiled. At turns urgent and lyrical, Erens's novel is a visceral portrait of childbirth, and a vivid rendering of the way we approach motherhood—with fear and joy, anguish and awe.
Praise For Eleven Hours…
Erens . . . [creates] one of the most realistic and harrowing portrayals of birth you are likely to encounter in fiction. She has also written an indelible portrait of two women coming to terms with desire, fear, crushing losses and fragile joys that have carved their lives, and who knows what it means to fight every hour, every minute, to take another breath.

— New York Times Book Review

Exhilarating novel . . .The writing is candid without being sensational, detailed without being clinical. This admirable novel reminds us that even when childbirth is overseen by caring professionals in state-of-the-art facilities, it still arrives on waves of blood.

— Wall Street Journal

I loved Eleven Hours. In this gorgeous, haunting, slender novel, Pamela Erens creates an intimacy that is all-encompassing.

— Roxane Gay, author of BAD FEMINIST

Pamela Erens achieves the extraordinary in her third novel, Eleven Hours: a visceral story about an intensely painful experience that manages to be an intense pleasure to read.

— Boston Globe

Childbirth, this uniquely female form of heroism, is rarely documented in our literature, and I've never seen it rendered with the extraordinary insight, urgency, and potency of Eleven Hours. Every dilation and contraction of feeling is recorded, and Erens evokes the layered experience of living in a body— its tides of memory, sensation, and emotion—like no other writer I know.

— Karen Russell, author of VAMPIRES IN THE LEMON GROVE

Quietly, without the fanfare she is due, Pamela Erens has become one of the finest novelists of the twenty-first century, and Eleven Hours is another confirmation.

— Kyle Minor, author of PRAYING DRUNK

With exhilarating speed the wonderful Pamela Erens describes the stories of two women as one gives birth to her first child and the other tries to contain her fears around motherhood. Miraculously, in these few beautiful pages, we learn everything we need to know about these characters and their lives. A brilliantly suspenseful and moving novel.

— Margot Livesey, author of The Flight of Gemma Hardy

 Powerful—aesthetically and viscerally.

— Kirkus, STARRED

Written with incredible clarity, the third novel from Erens (The Virgins) is a wonder, shifting between two protagonists with ease to tell a deeply personal narrative of childbirth, complete with tension, horror, and deep mature emotion. This novel does not sentimentalize the delivery of a child, but rather examines the surprise -- mental and physical -- that accompanies it. Labor stories are as old as time, but Erens's novel feels incredibly fresh and vivid. An outstanding accomplishment.

— Publishers Weekly, STARRED & Pick of the Week

The book is fierce and vivid in its depiction of the exhaustion of the spirit and the rending of the flesh during childbirth. So much so, that it makes that boy adventure aboard Herman Melville's Pequod almost seem like a Carnival cruise. . . Erens never flinches here and in this incisive novel about birth, she bears witness to its beauty and brutality.

— NPR Fresh Air

This visceral and empathetic novel upends conventional notions of motherhood while reminding us of its universal mystery.

— Signature Reads, Best Books of the Year

[Erens] transforms the commonplace into the captivating . . . Nowhere have I read a more delightfully stomach-churning account of the indecencies, the invasiveness and the violence of bringing life into the world.

— The Guardian

Erens' vivid, unflinching portrayal of childbirth . . . read so powerfully, and offer something so infrequently depicted in literature . . .

— Huffington Post

What if, instead of making tender youths watch "The Miracle of Life" in health class, risking numerous teenagers passing out on the linoleum, we regularly exposed them to honest narratives about the experiences of pregnancy and childbirth? . . . [Eleven Hours] portrays childbirth with a clear-eyed simplicity that is both poetic and very educational.

— Huffington Post, "13 Illuminating Books That Should Be Required Reading"

Erens is such a gifted writer that in this slender novel she is able to magically transform the experience of two women – one a mother in labor, the other a nurse – into urgent, suspenseful drama. From the first sentence – ''No, the girl says, she will not wear the fetal monitoring belt'' – Erens seizes control of her intense, provocative and deeply rewarding high-wire act of a novel.

— National Review, Five Hot Books

This is an immensely powerful, cannot-look-away novel of heart and bone and muscle and blood. The war novel has a rival, and it is breathtaking.

— Herald Scotland

Erens describes this pain so honestly that its rawness is breathtaking. . . . Brilliantly evocative.

— Rain Taxi

Erens makes a fresh contribution. Along with creating original and nuanced characters, she pits duality against intense isolation. . . 

— The Millions

Pamela Erens has given us a dream that becomes a nightmare and is restored again to dream, a vital, microcosmic, fundamental, riveting, distilled illumination of our most profound and misunderstood passage, the rite at which every reader can marvel: someone once did that for me. As essential a novel as they come. 

— Elisa Albert, author of AFTERBIRTH

Deeply moving and radiantly written, Eleven Hours is a gorgeous, harrowing, and intensely urgent novel. Pamela Erens is a mesmerizingly smart and powerful writer—I can't stop thinking about this book.

— Molly Antopol, author of THE UNAMERICANS

With Eleven Hours Pamela Erens solidifies her standing as one of the most gifted fiction writers we have. This exploration of a woman's time in labor is at once gritty and graceful, harrowing and compassionate. It is no small challenge to make a subject as old as life itself feel newly observed and newly revelatory, but Erens does exactly that and more. Bravo!

— Robin Black, author of LIFE DRAWING

Eleven Hours is a taut, spare, and gorgeous, a slow beautiful spinning of tension and story that embraces two women whose lives interlock at the moment in which life enters the world: birth. Pamela Erens's prose manages to be both meditative and urgent.

— Roxana Robinson, author of SPARTA

I could. not. put this one down. 



Erens' story is so tightly packed, so fluid, I couldn't stop chasing the next word, the next sentence, through to the end.I don't have children and I don''t plan to; it's not for me. And still, even unexpectedly, Eleven Hours really resonated with me. It's a welcome addition to the too-tiny pool of pregnancy & childbirth-themed literature, though echoes into so much more than that as well.



As Lore works and struggles through labor, every detail of which I felt I could touch with both hands, she also navigates human connection--how the are made, held, broken. And as Franckline, her nurse/midwife, travels through this alongside Lore, the connections and bonds between women, the temporary one between these two women--are lovingly knit, inspected, defined. Eleven Hours is like a lullaby, speaking often of tragedy but in the gentle, rocking tune of a mother's voice. This is another one from Tin House that I will be keeping tucked in near my heart.

— Finch Alder Hogue, Vintage Books
Tin House Books, 9781941040294, 176pp.
Publication Date: May 3, 2016
About the Author
PAMELA ERENS's second novel, The Virgins, was a New York Times Book Review Editor's Choice and was named a Best Book of 2013 by the New Yorker, the New Republic, Library Journal, and Salon. The novel was a finalist for the John Gardner Book Award for the best book of fiction published in 2013. Pamela's debut novel, The Understory, was a finalist for the Los Angeles Times Book Prize and the William Saroyan International Prize for Writing. Her essays, articles, and reviews have appeared in publications such as Elle, Vogue, the New York Times, Los Angeles Review of Books, and the Millions.
Coverage from NPR