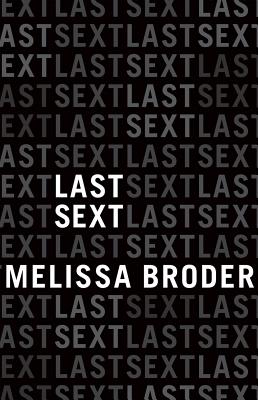 Last Sext
Paperback

* Individual store prices may vary.
Description
In her electric fourth collection, Melissa Broder penetrates the itch of existence and explores numberless deaths: the annihilation of self, the bereavement of love, the destruction of fantasy, the transmutation, even, of our ideas of dying.



One of the New Yorker's Books We Loved in 2016
What emerges is an infinite series of false endings—each a trap door containing the possibility for alchemy, rebirth, and renewal. Part elegy, part confessional, part battle cry, Last Sext confronts both eternal longing and the mystery of mortality, with language hot, primal, and dark, as Broder's fans have come to love.
Praise For Last Sext…
The poems of Melissa Broder pull off a strange and compelling trick: to exist meatily, viscerally, and even bloodily at the center of a void. Holes thump through the pages, blankness crunches bone, zeros growl with hunger. Each line is a little heartbeat hurling down the abyss.

— Patricia Lockwood

Broder's poems offer a postmodern twist on the confessional, and they push for action in the face of despair.
— Publishers Weekly

Melissa Broder is absolutely one of the most important poets writing today. Her poems eviscerate the reader with their misty and murky charm, with their ability to say what is and not what should be, for their love of life and the sensual, for their knowledge of what it is like to be a person right now. Last Sext is a master work, a text of brilliance written in a dusky field, for all of us. 'Can you feel it?' is what it asks us. And we must answer: for chrissakes, of course, yes.

— Dorothea Lasky

Broder has a virtuosic sense of herself and is able to convey, through poetry, the form of her whole mind process. In turn, we see our deepest selves reflected back.
— Daniel Lopatin

With her fourth poetry collection, Melissa Broder demonstrates just how powerful her existential musings can be. . . . Last Sext is carried by longing, fear, and the mystery of mortality - in an absolutely stunning way.

— Large Hearted Boy

Broder has built a career on brutally strange, introspective encounters with language. . . [Her] best poems invoke haunting repetition in an almost ballad-like incantation, allowing her lyrics to make stunning, unexpected turns of brilliance.

— Booklist

[A] provoking collection that spews and spits desperation and sensuality.

— Format Magazine
Tin House Books, 9781941040331, 80pp.
Publication Date: June 14, 2016
About the Author
Melissa Broder is the author of the novels Milk Fed and The Pisces, the essay collection So Sad Today, and four poetry collections, including Last Sext. Broder has written for The New York Times, Elle.com, VICE, Vogue Italia, and The Cut. She is the winner of a Pushcart Prize for poetry. She lives in Los Angeles.