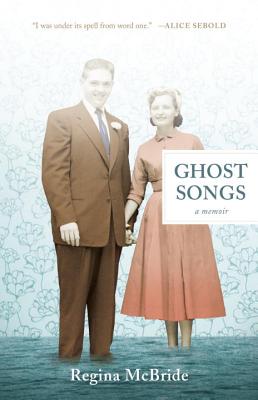 Ghost Songs
A Memoir
Paperback

* Individual store prices may vary.
Other Editions of This Title:
Compact Disc (10/4/2016)
MP3 CD (10/4/2016)
Compact Disc (10/4/2016)
Description
A searingly beautiful coming-of-age memoir about a girl who begins to see her parents' ghosts after their tragic deaths.



An Oprah.com Editor's Pick and a Paris Review Staff Pick
Eighteen-year-old Regina McBride is haunted by the ghosts of her parents. Her father visits her—he is desperate, but she doesn't know how to help him. Her mother is a quiet figure, obscured by light—a flash at the foot of the bed. Regina, raised Irish Catholic and with the ironclad belief that some sins are unforgivable, fears her parents are trapped between worlds, forever punished after they committed suicide within a few months of each other.
Terrorized by these visitations and flattened by grief, Regina slowly begins her hazardous journey to recovery. Lyrical and lovely, harrowing and haunting, Ghost Songs charts her struggle to separate madness from imagination and sorrow from devastation. From New York to the desert of New Mexico to the shores of Ireland, Regina searches for herself, her home, and a way to return to the family that remains. Ghost Songs is an exploration of memory, a meditation on love and loss, and, in the end, a celebration of life and the living.
Praise For Ghost Songs: A Memoir…
What makes this book so original is the almost uncanny way McBride's narrative blurs the edges between a tortured past and a confusing present. She dares to hope that a half-formed ghost she sees at the foot of her bed is an amalgam of both of her parents, no longer separate—their unconstrained spirit as fluid and searching as her own.

— Oprah.com, Editor's Pick

This memoir of survival is even more about reinvention than reflecting on the past. Harrowing, sincere, and unforgettable.

— Booklist, STARRED REVIEW

Harrowing yet beautiful, [Ghost Songs] is not only an exploration of the interplay between memory and imagination. It is also an eloquent meditation on the painful burdens of the past that parents bequeath their children. A wrenchingly lyrical memoir of family and tragedy.

— Kirkus

Dubbed a literary Maeve Binchy by an LJ reviewer for her affecting, lyrical fiction (e.g., The Nature of Water and Air), McBride will make you sit up straight with this startling memoir, grounded in singular sorrow: her parents committed suicide one after the other when she was only 16. McBride's subsequent hunt for comfort and belonging took her from New York City to New Mexico to Ireland, where she reconnected with her roots and the gorgeous Irish lore that informs her writing. Yet she still had to contend with the painful recognition that Catholicism regards suicides as unpardonable sin.

— Barbara Hoffert - Library Journal

Book groups will find much to discuss [...] in this beautifully rendered work.

— Library Journal, STARRED REVIEW

This stark, graceful memoir . . . is written not in chronological order but in brief, vivid fragments (a paragraph, a page) that bounce around in time, slowly revealing the tormented, the happy, the tragic.

— The Minnesota Star Tribune

In her elegiac first memoir, Regina McBride delves deep into the psychospiritual explanations for a haunting, less concerned with whether or not specters are real than with why some see them in the first place.
— The Village Voice

In Regina McBride's Ghost Songs, there is a mysterious alchemy at play. With a subtle hand, McBride transforms personal horror into poetic myth. In writing this story that happened to her in real time, she creates a book that feels timeless. I was under its spell from word one.

— Alice Sebold, author of LUCKY

[A] soul-wrenching memoir. A powerful depiction of a teenager understanding the complexity of newfound adult responsibility, poverty, and her parents' identity, while coming to terms with the trauma of loss and her encounters with the miraculous.

— Publishers Weekly

[McBride's] journey toward recovery takes her from New York to the desert of New Mexico and finally to the shores of Ireland, where she is able to reconcile the events that happened to her and to her parents. The magnitude of the author's grief is at times overwhelming; there's an unerring sense of distress and disorder. By the end of the book, we've pieced together her life—I felt an odd, poignant sense of calm with her when, in the final pages, she sits in a café in Dublin.
— The Paris Review, Editor's Pick

Beautiful, compelling story . . . I loved this book because I felt that I went a journey with McBride. I understood what she lived. I would recommend this book to anyone.

— An ELLE Readers' Choice Book

As a child Regina McBride's life was shattered several times over as the adults around her disappeared. Now in glittering, vivid prose she pieces that life together again and allows the reader to follow her in an extraordinary account of love, tragedy, and recovery. Ghost Songs carries us to the heart of grief, and beyond.

— Margot Livesey, author of THE FLIGHT OF GEMMA HARDY

Regina McBride's lyrical, beautiful writing is all the more astounding when paired with its subject matter. . . . Unflinching, yet tender, McBride's memoir is a moving tribute to the realities of one's past and how they shape our present

— Read It Forward

Regina McBride's soul-stirring memoir Ghost Songs aims to uncover the truth behind what caused her parents to commit an unforgivable sin in the eyes of the Irish Catholic church. [McBride] discovers the limitlessness of her strength and potential after she comes to terms with what haunts her.

— Signature

It's a wonder to me that after reading this book of such intense pain and deep sorrow that I felt—and know I'll continue to feel—peace and hope. Regina McBride has written a beautiful memoir in which ghosts—individual and compound—can, like the living, be transformed from that which we fear to that which we might accept and love.
— Michael Thomas, author of MAN GONE DOWN

In Ghost Songs, Regina McBride embarks on a brave journey, around Ireland and into the heart of familial loss. Each stop is vividly rendered and gracefully observed. This is a beautiful memoir, as deft and wise as it is elementally sad.

— Alexandra Styron, author of READING MY FATHER

A rare ghost story that isn't fiction.
— Vulture, Best Fall Entertainment
Tin House Books, 9781941040430, 350pp.
Publication Date: October 4, 2016
About the Author
Regina McBride is the author of The Nature of Water and Air and The Land of Women. The recipient of fellowships from the NEA and the New York Foundation for the Arts, she lives in New York City.
or
Not Currently Available for Direct Purchase