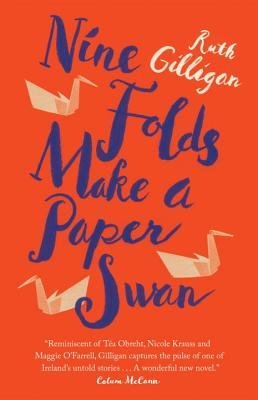 Nine Folds Make a Paper Swan
Paperback

* Individual store prices may vary.
Description
Three intertwining voices span the twentieth century to tell the unknown story of the Jews in Ireland. A heartbreaking portrait of what it means to belong, and how storytelling can redeem us all.
At the start of the twentieth century, a young girl and her family emigrate from Lithuania in search of a better life in America, only to land on the Emerald Isle instead. In 1958, a mute Jewish boy locked away in a mental institution outside of Dublin forms an unlikely friendship with a man consumed by the story of the love he lost nearly two decades earlier. And in present-day London, an Irish journalist is forced to confront her conflicting notions of identity and family when her Jewish boyfriend asks her to make a true leap of faith. These three arcs, which span generations and intertwine in revelatory ways, come together to tell the haunting story of Ireland's all-but-forgotten Jewish community. Ruth Gilligan's beautiful and heartbreaking
Nine Folds Make a Paper Swan
explores the question of just how far we will go to understand who we really are, and to feel at home in the world.
Praise For Nine Folds Make a Paper Swan…
With Nine Folds Make a Paper Swan, Ruth Gilligan strikes out into ambitious literary territory. Gilligan weaves history into the present moment with assurance and style. Reminiscent of Tea Obreht, Nicole Krauss, and Maggie O'Farrell, Gilligan captures the pulse of one of Ireland's untold stories, and asks us to consider the age-old dictum that the past is not dead, it is not even past. A wonderful new novel from a writer to look out for.

— Colum McCann

In a boldly ambitious novel of family and belonging, Gilligan chronicles the history of Jewish immigrants in Ireland by weaving together three interconnected stories spanning more than a century. . . All three stories—more intertwined than any of the participants know—are gripping, nuanced, and clever, occupying a rich and hazy space between realism and metaphor.

— Kirkus, STARRED REVIEW

A stellar U.S. debut . . . Gilligan weaves a mesmerizing blend of plot and character while exploring themes of assimilation and displacement, suggesting what binds us all is storytelling.

— Publishers Weekly, STARRED REVIEW

Reading Ruth Gilligan's Nine Folds Make a Paper Swan, I thought of Colum McCann's Zoli—from which the book fittingly takes its epigraph—and of Nicole Krauss's The History of Love; like those novels, it's a rich and layered story of the complications, the mistakes, and the heartbreaks of which a human life is made. But I thought mostly about Gilligan's characters—Ruth, Shem, and Aisling—and of the fascinating untold story—the story of Jews in twentieth-century Ireland--given vivid expression by their interweaving narratives. I haven't read anything like it, and I was delighted to meet with their voices: voices that are so real—sometimes funny, sometimes frustrating, sometimes devastated—and that linger in the little streets imagined by the novel long after the story has been told."

— Belinda McKeon, author of TENDER

Gilligan pieces together the largely untold story of Ireland's Jewish community, plucking at the heartstrings with this revelatory saga about hope, homeland, and perseverance.

— Booklist

The charm of [Gilligan's] rich, delightfully complicated characters, combined with the allure and magic of her language, effortlessly carries the reader through a wondrous depiction of the power of story to transcend time and connect individuals. . . . Whether readers have an intimate experience with Judaism or no experience at all, Nine Folds Makes a Paper Swan will captivate and inspire. A superb debut from an incredibly talented writer.

— Shelf Awareness, Starred Review

Richly layered with stories within stories and unexpected connections, this is one of those books I find myself thinking about days later. A wonderful read with Gilligan's beautiful prose warmed by her compassion for travelers in the world, seeking love, family and home.

— The Minnesota Star Tribune

Gilligan's tenderly expressive novel is a brilliant riff on her Irish literary heritage. . . . Nine Folds Make a Paper Swan resonates with the contemporary zeitgeist of immigrants seeking refuge around the globe.

— World Literature Today

The most famous literary Irishman of all time was a Jew, yet the stories of his community have been seldom told. Nine Folds Make a Paper Swan blooms in that silence, with grace, confidence, and vividness. I loved this beautifully written and elegantly managed novel and was sorry when it ended.

— Joseph O'Connor, author of THE THRILL OF IT ALL

Three stories about immigration, Ireland, and Judaism form a beautiful harmony in this exciting new novel . . . Gilligan will entertain and amaze readers when she brings the threads together.

— Bookish, Best Reads of Winter
Tin House Books, 9781941040492, 400pp.
Publication Date: January 24, 2017
About the Author
Ruth Gilligan is a graduate of Cambridge and Yale, and now works as a Senior Lecturer in Creative Writing at the University of Birmingham. She contributes regular literary reviews to The Guardian, Los Angeles Review of Books, Irish Independent, and the Times Literary Supplement.
1. Does anyone in the group have any Irish or Jewish heritage? Do you think that altered the way you appreciated the novel?
2. Given the themes of diaspora, immigration, xenophobia and belonging, what parallels did you find between Nine Folds and the current global situation?
3. Of the three narrative strands/settings, which was your favourite (or least favourite) and why?
4. The title Nine Folds Make a Paper Swan has both literal and metaphorical resonances within the novel. Noah makes paper swans for Aisling; swans famously mate for life; origami is about making different versions from the same blank canvas; birds migrate and, ultimately, return home. What did the title mean for you?
5. Would you classify the ending as happy or sad? Did the novel conclude the way you expected it to?
6. There are a lot of strong secondary characters in the novel – Ruth's father, Alf, Noah etc. Which of these worked best for you?
7. What do you think will happen with Aisling and Noah now? Do you think she has made a choice? And if so, is it the right choice?
8. Storytelling is at the heart of this novel – how stories can save and redeem us; how stories come to define us; how stories are passed down between generations. Do you feel the power of storytelling was enough to triumph over the darker instances in the novel?
9. How did your relationship with Ruth, Shem and Aisling change over the course of the book?
10. Did you find yourself frustrated with Shem's continued silence, or did you ultimately respect – and even admire – his sacrifice?