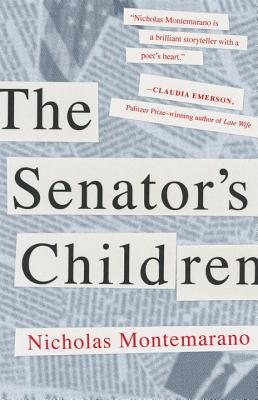 The Senator's Children
Paperback

* Individual store prices may vary.
Other Editions of This Title:
Library Binding, Large Print (2/7/2018)
Description
"It's hard to look so deeply into other people's lives that you really understand them, except perhaps through fiction, and that is what Montemarano has done here, with deftness and subtlety." —The New York Times



In a country that loves second chances, are some transgressions simply unforgivable?
Sisters Betsy and Avery have never met, but they have both spent their lives under the scrutiny of prying cameras and tabloid journalists. Their father, David Christie, was a charismatic senator and promising presidential candidate until infidelity destroyed his campaign and his family's life. In the aftermath, Betsy grieves her broken family, while Avery struggles with growing up estranged from her infamous father yet still exposed by the national spotlight. Years later, as David's health declines, Betsy and Avery are forced to face their complicated feelings about him—and about each other. With delicacy and empathy, Nicholas Montemarano brings these sisters together in a parallel of grief and grace.
The Senator's Children
brilliantly distills the American family under pressure.
Praise For The Senator's Children…
Much the way Curtis Sittenfeld dug deep into the psyche of a fictionalized version of Laura Bush . . . so Montemarano has humanized the Edwards story, allowing us to look far inside at people who had seemed merely to be supporting actors in the larger drama. . . . It's hard to look so deeply into other people's lives that you really understand them, except perhaps through fiction, and that is what Montemarano has done here, with deftness and subtlety.
— The New York Times

The Senator's Children is at once wise and completely absorbing. Montemarano weaves his characters' lives gorgeously through time, balancing heartbreak and levity. A joy to read.

— Julia Pierpont, author of AMONG THE TEN THOUSAND THINGS

This engrossing, brilliantly structured novel takes a familiar situation—the implosion of a presidential candidate's career—and creates a thing of heartbreaking beauty out of it. In spare and evocative prose, Montemarano brings something to his family tragedy that's become a rarity in Washington—empathy—and turns what could have been a simple story of heroes and villains, of power and disgrace, into a deeply moving story of human connection. By asking whether forgiveness can conquer blame, and whether we might even be able to treat strangers like family, The Senator's Children feels like exactly the kind of novel we need in 2017.

— Eric Puchner, author of LAST DAY ON EARTH

The Senator's Children is such an effortlessly written book that you can slip into it without noticing the deep and painful and complex alternate reality it represents. Nicholas Montemarano holds up a mirror to our times in this profound meditation on the human cost of politics—a novel that bears reading and rereading.

— Jess Row, author of YOUR FACE IN MINE

When it comes to melodrama, there are three kinds of writers: those who run from it, those who run to it, and those who transform it. Nicholas Montemarano is that last, most rare, most remarkable sort of alchemist, and his new novel, The Senator's Children, is a most rare, most remarkable book. You might begin this novel thinking you recognize the politician and his family therein, but by the end they become something much more magnificent, more mysterious, more empathizable, than the real-life figures they may or may not be based on. Another one-of-a-kind book by one of our most talented fiction writers.

— Brock Clarke, author of THE HAPPIEST PEOPLE IN THE WORLD

In The Senator's Children, Nicholas Montemarano weaves a fascinating and poignant tale about the Christie family and the effects of scandal, loyalty, love, and loss on both public and private lives.

— Jessica Treadway, author of HOW WILL I KNOW YOU?
Tin House Books, 9781941040799, 300pp.
Publication Date: November 7, 2017
About the Author
Nicholas Montemarano is the author of three novels and a short story collection. His stories have appeared in Esquire, Zoetrope, Tin House, The Southern Review, and many other publications. His writing has been awarded a Pushcart Prize and a fellowship from the National Endowment for the Arts. He is the Alumni Professor of Creative Writing and Belles Lettres at Franklin & Marshall College.