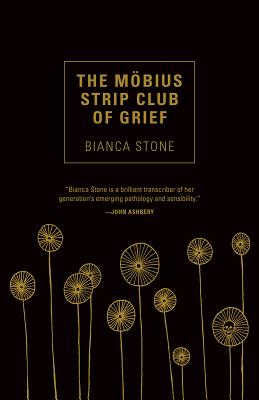 The Mobius Strip Club of Grief
Paperback

* Individual store prices may vary.
Description
"Bianca Stone is a brilliant transcriber of her generation's emerging pathology and sensibility." —John Ashbery



A Paris Review Staff Pick and Most Anticipated Book of 2018 at NYLON, Bustle, Autostraddle, and more.
The Möbius Strip Club of Grief
 is a collection of poems that take place in a burlesque purgatory where the living pay—dearly, with both money and conscience—to watch the dead perform scandalous acts otherwise unseen: "$20 for five minutes. I'll hold your hand in my own," one ghost says. "I'll tell you you were good to me." Like Dante before her, Stone positions herself as the living poet passing through and observing the land of the dead. She imagines a feminist Limbo where women run the show and create a space to navigate the difficulties endured in life. With a nod to her grandmother Ruth Stone's poem "The Mobius Strip of Grief," Stone creates a labyrinthine underworld as a way to confront and investigate complicated family relationships in the hopes of breaking the never-ending cycle of grief.
Praise For The Mobius Strip Club of Grief…
A feminist counterpart to Lincoln in the Bardo. Poet Bianca Stone's new collection submerges the reader in burlesque purgatory. Depicting a contemporary Hades, Stone revivifies ghosts of women poets long past and eulogizes their fierce genius.

— New York Magazine

[A] brilliant, wildly imaginative mediation on grief and loss and coping with being human and then not being at all.
— NYLON

[A] collection that features a bravely vulnerable beating heart hidden
beneath layers of irony and clever misdirection. Stone is the child of her
muses, Sexton and Emily Dickinson, and it is an odd but delightful union.
— Publishers Weekly, Starred Review

Fantastically unsettling and sparks a serious meditation on grief and family, from a distinctly feminine perspective. . . . [Stone] populates her poems with characters that range from Emily Dickinson to her grandmother, and the result is the feeling that we are witnessing a soul's intimate reckoning with life. Many poets have attempted to imagine the afterlife, and Stone's addition to the tradition disrupts it in the best way.
— The Paris Review, Staff Pick

Meditative and darkly entertaining, vivid and visceral, a little bit out-of-control, The Möbius Strip Club of Grief is filled with tired bodies, bodies with scars, other women poets, and members of Stone's own family — including a grandmother who herself is being grieved. This is a poetry collection like few you'll come across.

— Bustle

A little bit Inferno, but maybe even more so the deliciously devilish No Exit, Stone's book is a strange, entertaining journey into an underground world where poor souls are 'clinging to our tragedies, finding our favorite face.' . . . You've never quite seen a poetic party like this.

— The Millions

The Möbius Strip Club of Grief showcases a talent who is bold, original and highly attuned to human suffering, though the collection is not without moments of humor. Stone's wild and ingenious exhibitionism exposes the psyche's innermost sensitivities—a literary strip club for the soul.

— Shelf Awareness

Stone follows grief—and its many manifestations—through a salacious, serpentine strip-club underworld . . . sharply observed, wryly playful, and fiercely defiant.
— Booklist

Perhaps the most intriguing of the upcoming releases . . . The Möbius strip is easy to construct but for those who enter such a space, escape is impossible—a situation readers may find themselves in when they start reading these stellar poems.
— Signature Reads

Bianca Stone's lyricism outright rejects the Wordsworthian definition, 'emotion recollected in tranquility'; there is nothing tranquil about these poems or the state in which they were written. Grief, loss, and disappointment are transferred to a landscape of wild objects and associations. We are propelled along by abrupt changes in perspective and dimension. Bianca Stone is a brilliant transcriber of her generation's emerging pathology and sensibility.
— John Ashbery
Tin House Books, 9781941040850, 90pp.
Publication Date: February 27, 2018
About the Author
 Bianca Stone is the author of The Möbius Strip Club of Grief (Tin House, 2018), Someone Else's Wedding Vows (Octopus Books and Tin House, 2014), and Poetry Comics from the Book of Hours (Pleiades Press, 2016). She lives with her husband, the poet Ben Pease, and their daughter, Odette, in Goshen, Vermont.