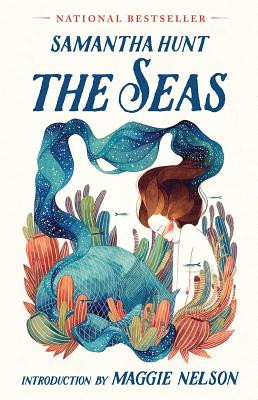 The Seas
Hardcover

* Individual store prices may vary.
Other Editions of This Title:
Digital Audiobook (2/18/2019)
Paperback (7/16/2019)
MP3 CD (2/19/2019)
Compact Disc (2/19/2019)
Description
"The Seas took me back to how I felt as a kid, when you're newly falling in love with literature, newly shocked by its capacity to cast a spell..." —Maggie Nelson (from the Introduction)



A Most Anticipated Book of Summer at BuzzFeed, NYLON, and more. 
Moored in a coastal fishing town so far north that the highways only run south, the unnamed narrator of The Seas is a misfit. She's often the subject of cruel local gossip. Her father, a sailor, walked into the ocean eleven years earlier and never returned, leaving his wife and daughter to keep a forlorn vigil. Surrounded by water and beckoned by the sea, she clings to what her father once told her: that she is a mermaid.
True to myth, she finds herself in hard love with a land-bound man, an Iraq War veteran thirteen years her senior.The mesmerizing, fevered coming-of-age tale that follows will land her in jail. Her otherworldly escape will become the stuff of legend. 
With the inventive brilliance and psychological insight that have earned her international acclaim, Samantha Hunt pulls readers into an undertow of impossible love and intoxication, blurring the lines between reality and fairy tale, hope and delusion, sanity and madness.
Praise For The Seas…
One of the most distinctive and unforgettable voices I have read in years. This book will linger in your head for a good long time.
— Dave Eggers

Hunt's spare narrative is as mysterious and lyrical as a mermaid's song. The strands of her story are touched with magic, strange in the best possible way and very pleasurable to read.
— Andrea Barrett

The Seas is creepy and poetic, subversive and strangely funny, [and] a phenomenal piece of literature.

— Michelle Tea

Hunt blends myth and reality — if her father is from the sea, our narrator wonders, then isn't such magic in her blood as well? — and ends up with something truly stunning.
— BuzzFeed

Urgently real and magically unreal . . . A breathy, wonderful holler of a novel, deeply lodged in the ocean's merciless blue . . . [Hunt] sinks an anchor into the soul of its lost young protagonist.
— The Village Voice

Spare, elegant, affecting . . . The Seas is a testament to doomed romanticism, to the ways in which we hang our hopes on impossible things becoming possible.

— NYLON

This modern feminist fairytale reels you in with its strangeness and beauty and gives voice to the dark realities of alcoholism, mental illness and the everyday messiness of life.
— Women@Forbes

An aqueous affair, flooded with water themes . . . Hunt's writing is free of affectation and carries surprising conviction.
— The New Yorker

In this dazzling, wrenching novel, Hunt challenges traditional mermaid mythology and constructs an unforgettable story about young womanhood in the process.
— Bustle

It's hard to imagine that a book so brief could tackle the Iraq war, grief over the loss of a parent, the longing for freedom, an enthrallment with the ocean, loneliness, sexual awakening, faith, and etymology, all in less than 200 pages, but Samantha Hunt has done it, and done it well.
— Chicago Review of Books

To describe Samantha Hunt's entrancing first novel, The Seas, is to try to interpret a watery dream that pushes the boundaries between fiction and fantasy. . . . Hunt's nimbleness makes the idea of leaning toward mermaid fantasies enticing.

— San Francisco Chronicle
Tin House Books, 9781941040959, 232pp.
Publication Date: July 10, 2018
About the Author
Samantha Hunt's The Seas, her debut novel, won a National Book Foundation award for writers under thirty-five. She is also the author of Mr. Splitfoot, Dark, Dark: Stories, and  The Invention of Everything Else. Hunt's writing has been published in The New Yorker, The New York Times, McSweeney's, A Public Space, Tin House, Cabinet, among others.

Maggie Nelson is a poet, critic, and nonfiction author of books such as The Argonauts, Art of Cruelty: A Reckoning, Bluets, and Jane: A Murder. She teaches in the School of Critical Studies at CalArts and lives in Los Angeles, California.
1. In many ways, the narrator of The Seas is unreliable. How does this shape your reading of the book? When she asserts, "details make a story even as unbelievable as mine believable,"do you agree?
2. Do you think it would be better for the narrator to know if her father is dead or alive?
3. How do you feel about the narrator's love for Jude? Do you judge Jude's involvement with her?
4. The narrator describes her feelings for Jude: "I am worn out by desire for him like a girl in some book." Does her love for Jude mirror other romantic relationships you've seen in literature?
5. How does the narrator's connection with her grandfather—a former typesetter who courted his wife by sending her backwards love notes—inform her understanding of the world?
6. The Seas is also a story about a mother and daughter. What do you think the narrator means when she says, "My mother is regularly torn between being herself and being my mother"?
 7. Have you, like the narrator of The Seas, ever been told that your experience of the world is fundamentally incorrect? Do you think that's a gendered experience?
8. What can we gain from reading old myths that have been reworked in contemporary fiction? How does a feminist perspective change the mermaid story?
9. How does The Seas' portrayal of female sexuality compare to other books you've read?
10. Do you believe the young narrator of TheSeas is a mermaid?