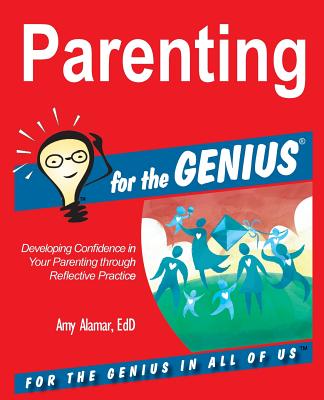 Parenting for the Genius (Paperback)
Charitychannel LLC, 9781941050101, 356pp.
Publication Date: October 11, 2014
* Individual store prices may vary.
Description
Parenting for the GENIUS is for parents who would rather spend time with their families than read this book. It offers a no-nonsense approach to parenting that presents values you can proudly parent and live by in an accessible and enjoyable way. Parenting for the GENIUS is a guide for parents of children of all ages. It's a how-to book that supports parents in creating clear and realistic strategies based on reflective practice.
As a resource,
Parenting for the GENIUS
is full of usable strategies for a host of situations that are discussed with honesty, complexity, and care-in the comforting style of discussing difficult problems with a good friend. Amy Alamar delivers her wisdom and expertise through insightful, familiar, and charming examples. The anecdotes and practical advice come together to illustrate the importance of reflecting on your parenting practice to inform your future decisions.
Parenting for the Genius is a comprehensive source for parents that discusses:
Helping your child develop an authentic identity
Developing character in your kids by addressing who your child is and who your child will be
Promoting independence by focusing on opportunities to let your child go and encouraging and honoring that independence
Nurturing well-being and healthy choices for your child, including ways to increase your family's health and wellness both in mind and body
Exploring how parents relate to their community and ways to support their children's entry into that community
Helping your child build, enjoy, and benefit from the people and institutions around your family
Additionally, Parenting for the GENIUS provides day-to-day practical advice in areas such as:
Thinking big picture, even when invested in the small stuff
Finding clarity in anger, frustration, or disappointment
Creating a space for yourself and identifying when you need that space
Negotiating with control and supporting your child's confidence
Encouraging your child's healthy choices
Focusing on learning and not performance
Parenting for the GENIUS is from a fellow parent-in the trenches with you-offering sound and productive advice based on research, professional experience, and personal practice. This is advice you can start using in the moment that is designed to help you make parenting decisions with confidence.
Like Thomas Edison's definition of genius, the best parenting is 99 percent perspiration (i.e., a lot of hard work). You cannot master the art of parenting until you've done it, and it's really never over. Every day that you parent your child (no matter how many you've had or will have) will be different. You've never before parented this particular child through this particular age. It's literally all new every day. Benefit from your newfound reflective practice to learn from your own experiences to continually improve and feel good about your parenting and your family.