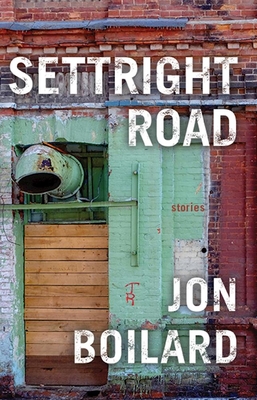 Settright Road
Paperback

* Individual store prices may vary.
Description
Settright Road is a collection of 20 short stories and one longer piece of fiction, all set in and around a string of busted Massachusetts mill towns during the cocaine-fueled 1980s. Its pages are colored by unforgettable characters: a teenage lothario whose plans to escape his one-horse town by hopping a train to California are monkey-wrenched when he impregnates a local girl from a prominent family; fresh-out-of-prison Sean Folan, who nearly kills a man in a bar fight just so he'll get locked up again; underage Bill Buick, who sells dope to hard-up townies and seduces high school girls, when he's not driving a wedge between his aunt and her new boyfriend; and Eskimo -- trouble in a too-tight dress -- a dancer and a poet whose unsavory relationship with a strip club owner comes to a tragic end when she falls in love with a notorious backwoods brawler. Jon Boilard lets loose these conflicted characters against a backdrop of the abject poverty that sits in stark contrast to the lush New England scenery; then he challenges us to root for these desperados despite the weight of their human errors.

Dzanc Books, 9781941088623, 184pp.
Publication Date: January 10, 2017
About the Author
Born and raised in Western Massachusetts, Jon Boilard has been living in Northern California since 1986. He is the author of two novels: The Castaway Lounge (Dzanc Books, 2015), and A River Closely Watched (MacAdam Cage, 2012), which was a finalist for the Northern California Book Award. His short stories have been published in literary journals in the United States, Canada, Europe and Asia. He lives in San Francisco, CA.