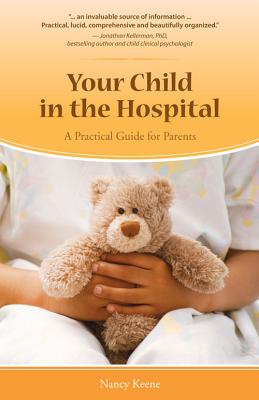 Your Child in the Hospital (Paperback)
A Practical Guide for Parents
Childhood Cancer Guides, 9781941089996, 176pp.
Publication Date: April 1, 2015
* Individual store prices may vary.
Description
Millions of parents take their child to the hospital each year for stitches, outpatient surgery, or longer stays for serious illnesses. Your Child in the Hospital: A Practical Guide for Parents is packed with sensible tips and home-grown wisdom that will make any visit to the hospital easier. It explains how cope with procedures, plan for surgery, communicate with doctors and nurses, and deal with insurance companies. Woven throughout the text are dozens of practical and encouraging stories from parents who have been through the experience of having a child in the hospital. This new edition contains a packing list, hospital journal for children, and helpful resources for parents.
About the Author
Nancy Keene, a well-known writer and advocate for hospitalized children, has written and co-authored twelve consumer health books on topics ranging from childhood illnesses to working with your doctor. Her work has appeared in many publications, including Reader's Digest, Journal of the American Medical Association, Exceptional Parent, and Coping magazine. She served as chair of the patient advocacy committee of a consortium of 350 children's hospitals and on a U.S. Food and Drug Administration (FDA) committee that reviewed medications given to ill children. Ms. Keene has been interviewed on National Public Radio (NPR), frequently speaks to professional and parent groups, and has participated in online support groups for parents of ill children since 1996.
Praise For Your Child in the Hospital: A Practical Guide for Parents…
"Hospitalization can bring unique stresses to children and families. Your Child in the Hospital helps parents to prepare their child emotionally. This is a must read in support of successful outcomes." —Joseph F. Hagan, M.D., clinical professor in Pediatrics, University of Vermont College of Medicine
"Your Child in the Hospital is an invaluable source of information for parents faced with the stress of a child in the hospital. Practical, lucid, comprehensive and beautifully organized." —Jonathan Kellerman PhD, bestselling author and child clinical psychologist
""This is the book that every parent lost in the crisis of a child medical emergency needs. If you have not been spared serious child injury or illness, you will cry with relief when you read it." —Peggy O'Mara, author, Natural Family Living
"This comprehensive book is a must-have for consumer collections." —Debra J. Kakuk Smith, MLIS, MA, Medical Library Association Consumer and Patient Health Information Section newsletter
"Nancy Keene included a chapter on school and highlighted the needs of siblings. She has placed the idea back in the minds of parents to include school nurses as part of the healthcare team." —Deb Ilardi, RN, BSN, Clinical Editor, School Nurse News
"This slim volume contains a wealth of information in a clear, easy-to-read format . . .  I highly recommend it for all consumer health collections and for parents of children hospitalized for any length of time." —Janet A. Crum, MLS, AHIP, selu.com
"Now in its third edition, this acclaimed guidebook has been thoroughly updated by health advocate Keene. Libraries would serve their communities well by having this title available in its newest edition." —Julianne Smith, Library Journal
"A must-read reference book for parents who are new to the process of hospitalization. It is recommended for individual practices; hospital, public and academic libraries; patient information centers; and personal use." —Elizabeth Moreton, Medical Library Association, Nursing and Allied Health Resources Section
"Keene's work is an excellent, comprehensive guide for parents . . . This is an invaluable resource for any hospital library with a patient or consumer component; in addition, the library might recommend this for its pediatric department." —Claire B. Joseph, Journal of Hospital Librarianship
"This was a wonderfully simple book to read yet full of very valuable information for any family facing the hospitalization of a child. My heartfelt thanks to the author for giving us such an important tool for families." —Samantha Flores, Hospital Libraries Newsletter, Medical Library Association