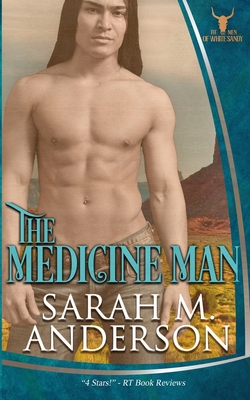 The Medicine Man (Men of the White Sandy #1)
Paperback

* Individual store prices may vary.
Description
The White Sandy Reservation needs a doctor, and Madeline Mitchell needs to do a little good in the world. It seems like a perfect fit, until she meets the medicine man, Rebel Runs Fast. As far as Madeline can tell, Rebel's sole mission is to convince her patients that modern medicine can't help them. And the fact that he makes her heart race every time he looks at her only irritates her more.Rebel swore off the white man's world-and women-years ago. But he's never met a woman like Dr. Mitchell. She doesn't speak the language, understand the customs, or believe he's anything more than a charlatan-but she stays, determined to help his people. He tries to convince himself that his tribe doesn't need her, but when patients start getting sick with strange symptoms, he realizes that he needs her more than ever.Note: This book was previously published as Mystic CowboyFinalist in the 2014 Booksellers Best Award contest and the 2014 Gayle Wilson Award of Excellence contestMystic Cowboy is filled with tension, Lakota beliefs, a little science, and a whole lot of romance...Filled with history, and rich descriptions of each scene, this modern day Western/Romance/Intrigue/Medical novel has lassoed five stars from me.-Tome Tender Book BlogFour stars Both generosity and greed play an important part in this love story where the tension mounts as illness threatens the entire reservation. Excellent character development is the highlight of Anderson's tale - Madeline and Rebel are often at odds as Rebel struggles to maintain his heritage and lifestyle while keeping Madeline by his side.-RT Book ReviewsThere is so much more to this story than hunky-cowboy-who-just-happens-to-be-a-Lakota Indian meets white city girl. Cultural differences create difficulties in Madeline and Rebel's relationship beyond just medicine man vs. doctor of medicine. However, the attraction between Madeline and Rebel is there from the start and heats up nicely. Don't miss Mystic Cowboy, and be on the lookout for the next installment in the series.-Library JournalI was hooked on this book from the beginning. Maddie's big life change was fascinating to read about, and I liked her character quite a bit. However, Rebel steals the show. He is enigmatic, sexy and so perfect for Maddie that I couldn't put "Mystic Cowboy" down...If you like contemporary stories about Native Americans and/or cowboys, you can't miss with "Mystic Cowboy." It is a delight to read, with a sensational blend of suspense, sexiness and romance.-Romance Novel News.
River Hills Press, 9781941097366, 312pp.
Publication Date: October 1, 2019