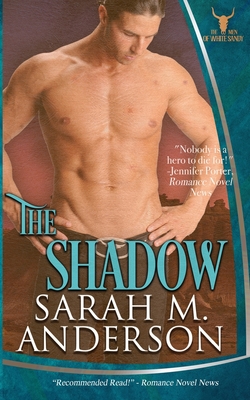 The Shadow (Men of the White Sandy #3)
Paperback

* Individual store prices may vary.
Description
Nobody Bodine is a nobody who came from a nobody and will always be a nobody. He disappears into the shadows-no one sees him if he doesn't want them to. He exists in neither the white man's world nor the tribe's, dispensing vigilante justice when he sees fit. There's no other place for a man like him in this world.Until Melonie Mitchell shows up on the rez. From the first moment he lays eyes on her, he can tell there's something different about her. For starters, she's not afraid of him. She asks where his scars came from, and why he has so many. But more than that, she sees him. For the first time in his life, Nobody feels like a somebody in her eyes.Melonie has come west to run the new day care on the White Sandy Reservation. She's intrigued by this strange man and his tattered skin, and when she discovers that he's a self-appointed guardian angel for the boy in her care, she realizes that there's more to Nobody than meets the eyes. But how far will he go to keep the boy safe? And will she be able to draw him into the light?This book was previously published as Nobody.TW: This book contains graphic fight scenes, descriptions of childhood abuse, hot sexy and light, sensual spanking.4 Stars "Things are heating up as we head back to the Rez. In this the third installment of the Men of the White Sandy series we meet Nobody - the definition of tall, dark and sexy. With a mix of gritty realism and mysticism, Anderson delivers a great story that is just a bit unexpected. The plot is exciting and the characters are heartfelt and down-to-earth."-RT Book Reviews5 stars "Get ready to have your heart broken over and over... The struggle Nobody] goes through to understand that he is worth loving and trusting is heartbreaking but so worth the journey that I'm honored to have had the chance to read it and gush over it to anyone who will listen. You want this story "-Books-A-Holic AnonRecommended Read "Nobody is one of the best contemporary romances of 2014, thus far. This book held me in thrall from the first word until the last. The story has such heart - even amidst the starkness of life on the reservation. And Nobody is a hero to die for. He is unforgettable, in his quiet way. I encourage readers to read his story..."-Romance Novel News5 Stars Nobody is one of those books that reaches right to your heart and squeezes it. -Love Romance Tales4.5 Stars I have waited for Nobody's story since the first book in this series and I loved it The troubled hero is all that I imagined and I thoroughly enjoyed his tale...I absolutely love the tortured hero trope, and Nobody fits perfectly into my happy place.-Ramblings from a Chaotic Mind5 Stars I absolutely love the tortured hero trope, and Nobody fits perfectly into my happy place.-Tome TenderI adored this story...Of course, by the end of the story-Nobody really isn't just a nobody anymore. He's definitely Melinda's somebody.-Smexy Books4 Stars I was very happy and satisfied with this much anticipated story of my favourite hero in the Men of The White Sandy series, Nobody. As always, Sarah M. Anderson creates unique characters, beautiful settings but doesn't take the easy route. She stays true to her protagonists and their attributes. They are distinctive and layered...I can't wait to read the next installment -Swept Away by Romance4 1/2 stars I loved finally reading Nobody's story, and being able to visit with the various characters of the White Sandy again. Steamy and sweet with a lovely story and fascinating setting, Nobody is a gem of a contemporary romance. If you love a good tortured hero with a heart of gold, don't miss this book -The Book Queen's Book Palace5 Stars "I've been waiting for Nobody's book. The mysterious man with the bad reputation and grumpy demeanour has been on my want-to-read pile since he first graced the pages of this series and, by God, he was worth the wait."-Scorching Book Reviews.
River Hills Press, 9781941097601, 348pp.
Publication Date: October 1, 2019