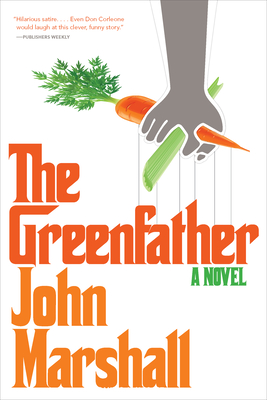 The Greenfather (Paperback)
Three Rooms Press, 9781941110515, 240pp.
Publication Date: May 9, 2017
* Individual store prices may vary.
Description
Simon, New York's top organic grocery store owner has a secret: his dad is the head of one of New York's biggest mob families. When his dad dies, Simon agrees to head the Family, provided that instead of murder, numbers and other rackets, the mob uses its muscle to enforce green regulations and promote healthy eating habits. At first the mob's hit men and extortionists resent being pressed into green service, but they soon become Simon's biggest supporters. Seemingly overnight, the city becomes literally cleaned up. Simon, who had planned on succeeding his dad temporarily, now finds he likes his new position as the head of the Family. However, the green world doesn't accept him because he's running a crime family, and the crime world doesn't trust him because he's run afoul of the Feds. Simon takes his wife, Marla, to his ancestral homeland in Italy, for a much-needed sabbatical - and gets even further into trouble. Loosely based on Mario Puzo's runaway hit The Godfather, THE GREENFATHER showcases Marshall's comic dialogue, honed year after year in late night television, in the grand tradition of classic mob comedy, like Analyze This and Analyze That. Packed with larger than life goons, right-hand men, Feds and green fanatics, THE GREENFATHER satirizes the environmental movement, crime, families, and crime families. THE GREENFATHER is sharp, hilarious, and takes no prisoners, except the ones who are supposed to go there. It goes well with a light salad of radicchio and cherry plum tomatoes.

About the Author
John Marshall is an Emmy-nominated writer who has written for The Chris Rock Show, Politically Incorrect, Tough Crowd with Colin Quinn, and The Electric Company, to name a few. He is a regular contributor to The Huffington Post, MAD Magazine, and Bazooka Joe Comics. As a stand-up comedian, he is a regular at Laughing Liberally in New York. He has studied improv with Upright Citizens Brigade in New York and Second City in L.A. He has executive produced the Writers Guild Awards show four times. Raised in Sleepy Hollow, New York, Marshall grew up a mile from Washington Irving's grave. His first story, written at age four, was called "What to Do If You See a Big Scary Dog." It had five words: "Fall, senseless, to the ground." In high school, Marshall studied writing with Mary Cheever, and at the University of Pennsylvania, he studied playwriting with Romulus Linney. He wrote for Jay Leno's Tonight Show and for Colin Quinn's Weekend Update on SNL. Upcoming include Death & Faxes, an animated series about the Grim Reaper and a comic update of Washington Irving's story about the Headless Horseman called The Legend of North Tarrytown. THE GREENFATHER is his first novel. Marshall lives in New York City.