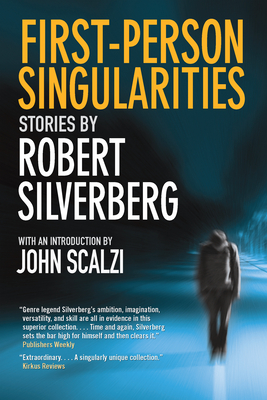 First-Person Singularities (Paperback)
Stories
Three Rooms Press, 9781941110638, 384pp.
Publication Date: October 31, 2017
* Individual store prices may vary.
Description
First-Person Singularities, stories by science fiction Grand Master Robert Silverberg, features eighteen tales written over the course of his forty-year career, all told in the first-person singular. Inspired by W. Somerset Maugham's Six Stories Written in the First Person Singular, a fiercely realist collection from the 1930s, Silverberg takes on the challenge, offering up his own unique sci-fi twist and "running the gambit of singularity."
Every story in First-Person Singularities offers a one-of-a-kind narrator: a dolphin feeling the pangs of love for a human being; a computer eager to convince us of its sanity; a Greek god who has surreptitiously survived into modern times; an alien visitor living in disguise in a New York City hotel. Even a pudgy, timid Henry James gets the Silverberg treatment as the witness/narrator of H.G. Wells's The War of the Worlds Each story features a special introduction by Silverberg himself, providing the inside scoop on his experience writing for and publishing with the greatest science fiction magazines of the past and present.
First-Person Singularities includes an introduction by Hugo-award winning sci-fi author John Scalzi (Redshirts).
Robert Silverberg is one of the giants of the sci-fi genre, with four Hugo Awards and six Nebula Awards to his name. He was inducted into the Science Fiction and Fantasy Hall of Fame in 1999 and named a Grand Master by the Science Fiction and Fantasy Writers of America in 2005.
About the Author
Robert Silverberg, , author, is one of science fiction's most beloved writers, and the author of such contemporary classics as Dying Inside, Downward to the Earth and Lord Valentine's Castle, as well as At Winter's End. He is a past president of the Science Fiction and Fantasy Writers of America and the winner of five Nebula Awards and five Hugo Awards. In 2004 the Science Fiction and Fantasy Writers of America presented him with the Grand Master Award. Silverberg is one of twenty-nine writers to have received that distinction.