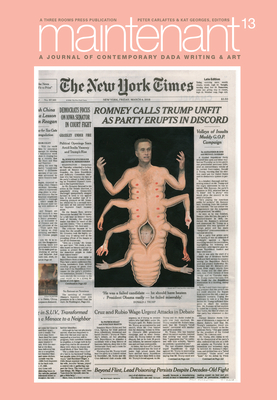 Maintenant 13
A Journal of Contemporary Dada Writing and Art
Paperback

* Individual store prices may vary.
Description
A collection of contemporary DADA art and writing gathered from 26 countries on six continents, focusing on the theme of Artificial Ignorance.

If you think Artificial Intelligence will mark the end of humanity then think again. Look at the world around you. Where is the intelligence? Where? Lying is the norm. Incompetence is rampant. Information is soiled with whatever spin is footing the bill. The Kool-Aid is your mind. MAINTENANT 13: A Journal of Contemporary Dada Writing and Art concentrates on exposing the ignorance with this issue's theme "Artificial Ignorance." The issue features the work of leading contemporary thinkers and creators from around the world who utilize collage, juxtaposition, and absurdity as an artistic protest against the madness of the world today.

The MAINTENANT series, established in 2008, is an annual collection of the work of renowned and emerging contemporary DADA artists and writers from around the world. The series has been archived in leading international institutions including the Museum of Contemporary Art-New York, the BelVUE Museum-Brussels, and more.

Renowned contributors have included artists Mark Kostabi, Raymond Pettibon, Giovanni Fontana, Jean-Jacques Lebel, and Kazunori Murakami. Writers have included Allen Ginsberg, Gerard Malanga, Charles Plymell, Jerome Rothenberg, and more, with a strong contingent of punk musician-artist-writers including Alice Bag, Grant Hart, Mike Watt, and Exene Cervenka.

MAINTENANT 13 contributors include: Derek Adams, Susan "Shoshannah" Adler, Henrik Aeshna, Mariam Ahmed, Jamika Ajalon, Linda J. Albertano, Joel Allegretti, Kit Alloway, Sangeetha Alwar, Joshua Amaya, Penny Arcade, Faithfull Baana Enono Arnaud, Wayne Atherton, Mahnaz Badihian, Vittore Baroni, Amy Bassin, Mary Beach, Carla Bertola, Volodymyr Bilyk, J zsef B r , Mark Blickley, Robert Branaman, Meagan Brothers, Ima-nol Buisan, Fork Burke, Irene Caesar, Billy Cancel, Peter Carlaftes, Mona Jean Cedar, Robert Cenedella, Exene Cervenka, Neeli Cherkovski, Hal Citron, Andrei Codrescu, Terese Coe, Giuseppe Colarusso, Roger Conover, Malik Crumpler, P l Csaba, Tchello D'Barros, Steve Dalachinsky, Allison Davis, Holly Day, Bart DeWolf, Claire Doble, Bruce Louis Dodson, Sam Dodson, Gabriel Don, Carol Dorf, Lala Drona, Robert Duncan, Nicole Eisenman, Kellyn Elson, Alejandro Escude, Jeff Farr, Becky Fawcett, Rich Ferguson, Cheryl J. Fish, Giovanni Fontana, Robert Ford, Thomas Fucaloro, Ignacio Galilea, Rosalie Gancie, Sandra Gea, Kat Georges, Christian Georgescu, Robert Gibbons, Gordon Gilbert, Jon Andoni Goikoetea, S.A. Griffin, Fausto Grossi, Egon Guenther, Stephen Adly Guirgis, Elancharan Gunasekaran, Bibbe Hansen, Heide Hatry, Aimee Herman, Mara P. Hernandez, Karen Hildebrand, Jack Hirschman, Mark Hoefer, Bob Holman, Lawrence Holzworth, JC Hopkins, Joel Hubaut, Matthew Hupert, Alfonso Iandiorio, Jonathan Peter Jackson, Mathias Jansson, Astoria Jellett, Boni Joi, Milana Juventa, Dobrica Kamperelic, VinZula Kara, Adeena Karasick, Allan Kausch, Marina Kazakova, Craig Kite, Antonia Alexandra Klimenko, Doug Knott, Ron Kolm, Gregory Kolm, Mark Kostabi, Pawel Kuczyński, Anatoly Kudryavitsky, Edward Kulemin, Alison Kurke, David Lawton, Pascale Le Bihan, Ronna Lebo, Jane LeCroy, Patricia Leonard, Linda Lerner, Verneda Lights, Alex-ander Limarev, Adrian Lis, Mark Lloyd, Madison Luetge, Sophie Malleret, Bibiana Padilla Maltos, Phil Marcade, Fred Marchant, Malak Mattar, John Mazzei, Imani Waters McCalla, Joan McNerney, Iulia Milataru, Lois Kagan Mingus, Charles Mingus III, Andriana Minou, Aida Mir , Julian Mithra, Simphiwe Gavin Mndawe, Richard Modiano, Mike M. Mollett, Thurston Moore, Larry Myers, Gerald Nicosia, Harry E. Northup, Anna O'Meara, Valery Oisteanu, Ruth Oisteanu, Suzi Kaplan Olmsted, Marc Olmsted, Jane Ormerod, Yuko Otomo, Lisa Panepinto, Pamela Papino-Wood, Gay Pasley, John S. Paul, Claude P lieu, Puma Perl, Pawel Petasz, Robert W. Petrick, Raymond Pettibon, J rg Piringer, Charles Plymell, Renaat Ramon, Kathleen Reichelt, Mado Reznik, Travis Richardson, Wes Rickert, Gy rgy Rőczei, Alan Russo, Martina Salisbury, Phil Scalia, William Seaton, Jack Seiei, Santa Semeli, Silvio Severino, Craig Shannon, Susan Shup, Elly Simmons, Angela Sloan, Orchid Spangiafora, DD. Spungin, Phillip T. Stephens, Christine Sloan Stoddard, Thomas Stolmar, Richard Stone, W. K. Strat-ton, Lucien Suel, Daina Surrealism, Neal Skooter Taylor, Michael Thompson, Jeff Tocci, Fred To-maselli, John J. Trause, Ann Firestone Ungar, Yrik Valentonis, Luca Vallino, Anoek Van Praag, Laki Vazakas, Barbara Vos, Duska Vrhovac, Silvia Wagensberg, George Wallace, Scott Wannberg, Mike Watt, Ingrid Wendt, Syporca Whandal, Maw Shein Win, A. D. Winans, Francine Witte, Charles Yuen, Lorene Zarou-Zouzounis, Larry Zdeb, Nina Zivancevic, Joanie HF Zosike.
Three Rooms Press, 9781941110799, 200pp.
Publication Date: June 4, 2019