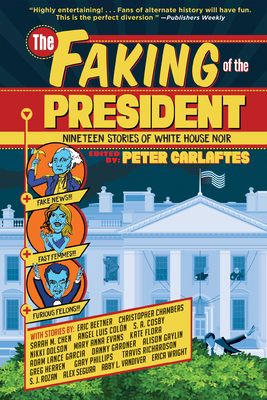 The Faking of the President (Paperback)
Nineteen Stories of White House Noir
Three Rooms Press, 9781941110898, 320pp.
Publication Date: April 21, 2020
* Individual store prices may vary.
Description
A literary coup d'etat, that ponders "What would the White House be like if U.S. Presidents of the past were not restricted by the time-honored hallmarks and traditional behavior of the office, leaving them free to do whatever they wanted, anytime and anywhere?" THE FAKING OF THE PRESIDENT: Nineteen Stories of White House Noir pulls back the curtain on the "new norm" for America's highest office, with a collection of bizarre new stories by a diverse group of renowned authors that take readers across the chasm of reality into an alternate universe--where Nixon takes a wacky psychedelic trip with Elvis Presley; where a time-traveling renegade targets members of the George Bush administration with disastrous results; where a spy seizes a sudden opportunity for power after Woodrow Wilson's stroke. The stories are outlandish but--when it comes to the White House of today--no longer implausible.

The line-up of award-winning authors includes Eric Beetner, Peter Carlaftes, Sarah M. Chen, Angel Luis Col n, S. A. Cosby, Nikki Dolson, Mary Anna Evans, Adam Lance Garcia, Danny Gardner, Alison Gaylin, Christopher Chambers, Kate Flora, Greg Herren, Gary Phillips, Alex Segura, Travis Richardson, S. J. Rozan, Abby Vandiver, and Erica Wright.

In an era where the bar for what is acceptable has shifted beyond what the founding fathers ever imagined, THE FAKING OF THE PRESIDENT is a highly recommended unique creative act of resistance, and a must-have for fans of politics, noir, and speculative fiction.
About the Author
PETER CARLAFTES is a New York-based editor, publisher, playwright, and author. His books include A Year on Facebook (humor); Drunkyard Dog and I Fold with the Hand I was Dealt (poetry); and Triumph for Rent (3 Plays) and Teatrophy (3 More Plays). He is editor of two short story collections in the Have a NYC: New York Stories noir series, as well the annual journal of Dada writing and art, Maintenant. He is co-director and vice president of acquisitions for Three Rooms Press. He lives in New York City.