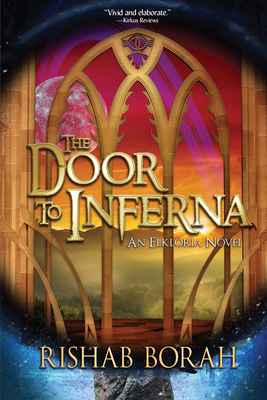 The Door to Inferna (Paperback)
Three Rooms Press, 9781941110966, 236pp.
Publication Date: October 20, 2020
* Individual store prices may vary.
Description
On a winter break from school that should have been nothing but goofing around with his best friends, teenager Khioneus Nevula soon realizes his recent peculiar dreams and visions are cries of help from the strange, mystical, parallel world of Elkloria, whose inhabitants need his special powers to survive. Adopted from unknown parentage, he has always been marked as different by his purple eyes. Now he begins to understand who he really is, and what he must do: open the door to Inferna to save the people of Elkloria. In the mystical land of Elkloria, he meets his twin sister, a proficient mage, a slightly mad scientist, and a princess. In this land, Khioneus is a prince, and he finds himself and his new friends caught in a war between the inhabitants of Elkloria and an ancient and powerful evil.

THE DOOR TO INFERNA, Rishab Borah's debut novel, is a middle-grade story (ages 11-16) that creates a fantasy world as fully realized as those of Rick Riordan or Tamora Pierce. Elkloria draws on Borah's interest in mythology, science, and linguistics as well as the imaginative lands he and his friends once inhabited in play--open to all to explore.
About the Author
Rishab Borah has held a deep -passion for magic and mystical things since elementary school. He started creating the world "Elkloria" when he was 11. Besides writing, Rishab is also an accomplished artist and loves to sketch wildlife, imaginary mythological figures, and dragons. He has a keen interest in -linguistics, science, and programming--he recently taught himself Python and Java programming in order to create his own video games. He -currently lives with his parents in the Silicon Valley, California area.