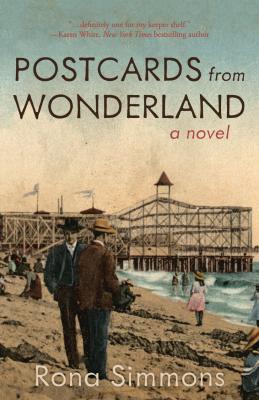 Postcards from Wonderland (Paperback)
Deeds Publishing, 9781941165645, 328pp.
Publication Date: February 17, 2015
Description
Set in New England in 1921, "Postcards from Wonderland" is the story of Rose Margolin, a newly married young woman who finds her life turned upside down the night her husband is arrested. He's become the latest victim of the local mob's hijacking of bootlegged alcohol and likely to spend considerable time in jail. Fearing he might talk, the mob sends a warning to Rose in the form of a leg-breaker, Earl Bloom. Earl does more than impart the warning, he is overcome by lust and rapes Rose. Alone and terrified, Rose finds a way to free her husband. Isador returns home with dreams larger than ever. Soon, he finds himself once again entangled with the mob and arrested for more serious offenses. His missteps drag Rose into the midst of the brutal criminal gang and she catches the eye of the mob boss, who takes her as his mistress. As Rose sinks further into the nightmare of her new life with its bleak future, she gathers her wits and devises a plan of escape.
Praise For Postcards from Wonderland…
In POSTCARDS FROM WONDERLAND, her second novel, Rona Simmons brings us a heroine to cheer for. The touching journey of Rose Margolin whose life is turned upside down and inside out when she comes face to face with 1920s bootleggers and mob bosses is one readers won't likely forget. Definitely one for my keeper shelf.
Karen White, New York Times Bestselling Author
——
Rona Simmons has created a world replete with tortured characters, broken hearts, betrayal, crime and passion. Set against the gritty backdrop of Revere Beach in 1921, this story grabbed me by the throat and transported me, along with characters I both loved and hated, taking us all on a journey of ruin and redemption that doesn't conclude until the last, satisfying page. Stunning!"
Kimberly Brock, Georgia Author of the Year 2013
——
"Postcards from Wonderland offers gritty views of the Roaring Twenties, with an innocent young woman, Rose, increasingly victimized by the schemes of her mobster-wannabe husband. Replete with historical details and crackling emotion, this tragic story will linger with you."

George Weinstein, author of The Caretaker, The Five Destinies of Carlos Moreno, and Hardscrabble Road

——
In POSTCARDS FROM WONDERLAND, Rona Simmons does a memorable job of capturing the long-disappeared days of Revere's Shirley Avenue neighborhood. Among a swirl of intrigue linked to the Jewish Mob, and the glitz and fun of the beach amusements, she plants Rose Margolin, the essence of a strong, loving, female character. Rose's difficult marriage draws her into an impossible situation, but with fine detail and smooth prose, Simmons manages to mix grit and tenderness, violence and love, and she makes the reader follow Rose, and root for her, to the final page.

Roland Merullo, Bestselling author of The Return and Revere Beach Boulevard

Advertisement