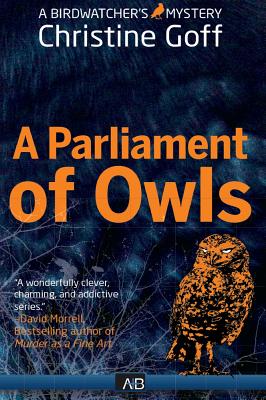 A Parliament of Owls (Birdwatcher Mystery #6)
Paperback

* Individual store prices may vary.
HighLine Editions, 9781941286623, 176pp.
Publication Date: October 5, 2016
About the Author
Author Introduction Growing up in a small mountain town in Colorado, my father and I fed the hummingbirds. He identified them as broad-tailed hummingbirds, though years later I learned there are actually four different hummingbirds that are common migrants or summer residents of Colorado. It was years after that when my husband taught me to stand very still with my hand outstretched under the feeder to let the hummingbirds perch on my fingers to eat. As a child I watched ouzels bob for food along the shore while I was fishing, stood open-mouthed as a red-tailed hawk caught dinner among the wildflowers just beyond camp. I loved watching the antics of the herring gulls diving for tidbits behind the lobster boats in Maine, and marveled at the puffin colony on Eastern Egg Rock. But it wasn't until years later, after I had decided to try my hand at writing mystery novels, that I found myself time and again coming back to stories with environmental themes involving birds. At that time, as a backyard birdwatcher all my life, I could identify all the birds that clambered to my feeders 51 different species. In doing research for my novels, I soon discovered there was a bigger world of birding beyond my backyard. Birders come in all shapes and sizes and with a huge diversity in knowledge. While some birdwatchers just enjoy looking at birds, others want to know the unique characteristics that determine the breakdown of species and subspecies. While some delight in just spotting a bird in the trees, others are only content when they can hear its call. While some thrill at the sight of a robin, others are only interested in the bird they can add to their life list. To expand my knowledge of birding, I decided the first thing to do was to sign up for a birding trip. The next one coming up happened to be The Rio Grande Valley Birding Festival in Harligen, TX. My first outing: a canoe trip down the Rio Grande with what turned out to be fifteen world class birders from all over the U.S. and Europe. Sixteen of us pushed off fifteen seeking life birds (a bird they'd never seen before) and me, for which nearly every bird was a life bird. I remember my canoe mate even having to teach me the proper way to use my brand new binoculars. But after that I was hooked. Since then I have gone on at least two birding trips a year, and birded in nearly every state in the U.S., Canada, Mexico, the Caribbean, Europe, Eastern Europe and Israel. Yet I would still dub myself an intermediate birder, at best. I'm good at spotting the birds, slow at identifying them, and hopeless at birding by ear. Yet I'm continually fascinated by the stories I hear and the things I've learned through watching birds and talking with other birders. I've discovered that the issues affecting birds have global themes relating to the environment and driven by that resonate with all of us money, land, love, pride, power. It was with that basic understanding that I set out to write the Birdwatcher's Mystery series a group of funny, sometimes serious mystery stories populated with birdwatchers ranging from the amateur to the professional. A Rant of Ravens, explores the illegal trading of peregrine falcons to the Middle East; Death of a Songbird looks at the coffee industry and the effects on migratory songbirds; A Nest in the Ashes considers the impact of prescribed burns on wildlife; Death Takes a Gander explores the reasons for a die-off of Canada geese; A Sacrifice of Buntings compares the basic nature of the painted bunting and the keynote speakers at a birding conventions; and, A Parliament of Owls, the newest in the series, looks at the human impact on endangered species. Most importantly, I hope I've presented these important themes in a manner that is accessible and entertaining for everyone from the novice to the expert, and in such a way as to get people thinking about the world they live in. Happy birdwatching and happy reading!"
or
Not Currently Available for Direct Purchase