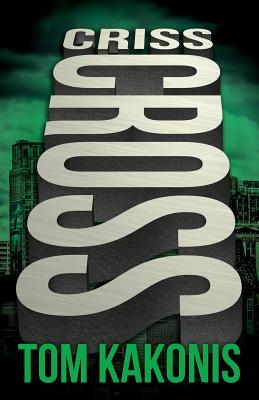 Criss Cross
Paperback

* Individual store prices may vary.
Description
"Simply tremendous Tom Kakonis's writing is on a level with Elmore Leonard."
Chicago Tribune CRISS CROSS It's a bone-chilling winter in Grand Rapids. Ex-cop Mitch Morse is stuck in a dreary, dead-end job at a discount store so he can't resist when a smoldering, sexy cashier Starla Hudek asks him to join a gang of down-to-their-last-chance killers and criminals ready to do whatever it takes to pull off the score of a lifetime on Christmas Eve. "Stylishly flamboyant...Kakonis has honed his skills at locking violent characters into harrowing, if often hilarious, straits." - New York Times It begins as an audacious armored car heist...but then things go ho-ho-horribly wrong, and the lust, greed, and scheming spirals out of control, the criss-crossing loyalties and betrayals tightening like a noose around Mitch's neck. "Tom Kakonis, a poet of raunch, brings to life the misfits and desperate dreamers who inhabit the shadowy side of a 'vanilla milkshake town'...Deft plotting, in-depth characterization and devilish humor add up to a riveting read." - Publisher's Weekly.
Cutting Edge Publishing, 9781941298008, 394pp.
Publication Date: June 3, 2014
About the Author
Tom Kakonis has been hailed by critics nationwide as the heir-apparent to Elmore Leonard... and for good reason. His stunning thrillers blend dark humor with gritty storytelling for compelling, and innovative crime noir capers packed with unique, sharply drawn characters and shocking twists. All of those talents are on full display in Treasure Coast, his bold new thriller from Brash Books. But that success is built on a foundation of incredible crime writing. In his highly-praised debut Michigan Roll, Kakonis introduced Tim Waverly - a loveable gambler who constantly finds himself playing a game of survival against the odds. The Waverly series continued with Double Down and Shadow Counter, and Kakonis also penned the hilarious and harrowing Christmas car heist Criss Cross. Kakonis took a darker turn with Blind Spot and Flawless, two mind-blowing thrillers he initially wrote under the pseudonym "Adam Barrow." Blind Spot is a tour-de-force that tracks a father's relentless, driving obsession to save his family at any cost, while Flawless, picked as a People Magazine Chiller of the Week, centers on a chilling serial killer as his perfectly-ordered life begins to crumbled when he falls in love, his imprisoned father is released, and a relentless, and sleazy, PI starts to follow the trail of bodies to his door. And now Tom Kakonis is back with the thriller his fans have been waiting to read for years. It was worth the wait. Treasure Coast Is "Get Shorty" meets "No Country for Old Men" on a sunny Florida coast that's teeming with conmen and killers - and marks the return of Tom Kakonis at his best.
or
Not Currently Available for Direct Purchase