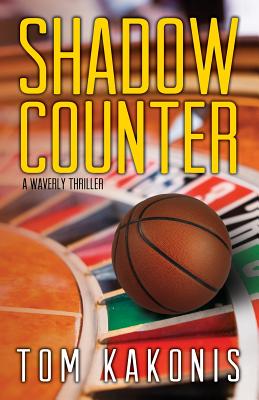 Shadow Counter
A Waverly Thriller
Paperback

* Individual store prices may vary.
Description
LADY LUCK IS DEALING DEATH... AND WAVERLY IS HOLDING A LOSING HAND. Twice selected by the New York Times as one of the Ten Best Crime Novelists of the Year, Tom Kakonis brings back Waverly, his cunning professional gambler, in what The Washington Post calls "a keenly fatalistic thriller." Waverly is in Las Vegas now, counting cards at the blackjack tables, trying to scratch together some money without getting caught. Things aren't going too bad until his naive sister drifts into town and hooks up with a murderous sociopath nicknamed Eggs who wants to muscle in on a basketball point-shaving scheme. Soon people are dying and the only way Waverly can save himself, and his sister, from joining them is to play a game of blackjack-to-the-death... "The latest and kinkiest...a bravura performance that will make your palms sweat." New York Times "Aptly compared to Elmore Leonard, Kakonis builds exquisite tension...steamy with a high-rent, low-life atmosphere and an unforgettable cast." Publishers Weekly.
Cutting Edge Publishing, 9781941298169, 376pp.
Publication Date: July 19, 2014
About the Author
Master of Crime Fiction Tom Kakonis has been hailed by critics nationwide as the heir-apparent to Elmore Leonard... and for good reason. His stunning thrillers blend dark humor with gritty storytelling for compelling, and innovative crime noir capers packed with unique, sharply drawn characters and shocking twists. All of those talents are on full display in Treasure Coast, his bold new thriller from Brash Books. But that success is built on a foundation of incredible crime writing. In his highly-praised debut Michigan Roll, Kakonis introduced Tim Waverly - a loveable gambler who constantly finds himself playing a game of survival against the odds. The Waverly series continued with Double Down and Shadow Counter, and Kakonis also penned the hilarious and harrowing Christmas car heist Criss Cross. Kakonis took a darker turn with Blind Spot and Flawless, two mind-blowing thrillers he initially wrote under the pseudonym "Adam Barrow." Blind Spot is a tour-de-force that tracks a father's relentless, driving obsession to save his family at any cost, while Flawless, picked as a People Magazine Chiller of the Week, centers on a chilling serial killer as his perfectly-ordered life begins to crumbled when he falls in love, his imprisoned father is released, and a relentless, and sleazy, PI starts to follow the trail of bodies to his door. And now Tom Kakonis is back with the thriller his fans have been waiting to read for years. It was worth the wait. Treasure Coast Is "Get Shorty" meets "No Country for Old Men" on a sunny Florida coast that's teeming with conmen and killers - and marks the return of Tom Kakonis at his best.